Product Announcement from Freudenberg-NOK Sealing Technologies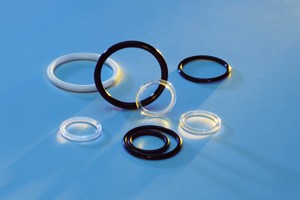 Simrit, the industrial sealing business of Freudenberg-NOK, has introduced Simriz®, their family of proprietary perfluoroelastomer (FFKM) compounds.
As one of the world's largest elastomeric sealing manufacturers, they have developed this material to bridge the gap between traditional FKM and PTFE materials. The Simriz® perfluoroelastomers possess the resilience of an elastomer and the chemical resistance approaching that of PTFE.
With a fluorination level of 72%, FFKM elastomers have a level of resistance close to that of pure PTFE at 76%. At the same time, FFKM materials exhibit resilience that makes them an excellent choice for applications where resistance to aggressive chemicals and tight sealing is needed. This provides Simriz® seals with excellent chemical resistance and thermal stability, including resistance to organic amines and steam.
Simriz® o-rings and molded shapes are available in over ten different Simriz® compounds. Each compound is specifically designed to optimize the following criteria and to meet market specific applications needs: broad chemical resistance, mechanical properties (hardness, tensile strength, elongation, etc.), compression set resistance, high temperature capability at 320°C (610°F), and low temperature flexibility at -20°C (-4°F).
Simriz® caters to demanding environments often found in chemical processing, pharmaceutical, semiconductor, aerospace, oil & gas, and general industrial applications.
By adapting the Simriz® name, currently in use by Simrit-Europe, they have created a truly global perfluoroelastomer product line. Visit the Simrit website at www.simrit.com or call 866-2SIMRIT for all of your sealing application needs.
You have successfully added from to your part list.
---