Product Announcement from Freudenberg-NOK Sealing Technologies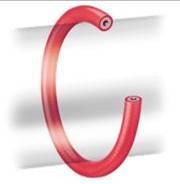 By means of two ingenious optimization measures, Simrit has succeeded in preventing undesirable pressure build-up between the buffer and rod seals in high pressure hydraulic systems thus extending cylinder service intervals significantly.
During the extension stroke of a hydraulic cylinder, a thin lubricating film passes beneath the sealing edge of the buffer seal. The rod seal minimizes this film even more. During retraction the oil residue is drawn into the main hydraulic chamber through the draft effect of the rod seal, but in high pressure systems it is possible that the volume of oil that is drawn back in is less than that which was allowed out. This leads to a rise of pressure in the chamber between the rod and buffer seal, which can exceed that of the main hydraulic chamber after a brief period.
The Vocomatic volume compensator provides a compressible tube which compensates for any hydro-dynamic pressure build up between primary and secondary rod seal, ensuring that any pressure which builds up remains considerably lower than the system pressure. Vocomatic consists of an O-ring type hollow tube that is placed in a groove between the rod and buffer seal, providing for optimal pressure ratios in the gap area between the rod and buffer seal.
Significantly increased service life:
The Vocomatic seal is an ideal supplement to high pressure sealing systems. It is especially effective in long stroke and telescopic cylinders and for difficult operating parameters such as quick changing extension and retraction movement and strong vibrations. The Vocomatic results in lower friction, lower temperature development, less wear, and less stick slip in high pressure systems. A sealing system with a volume compensator will have more stable long term behavior and extended service intervals.
In brief:
Vocomatic compensates for pressure build up between the rod seal and buffer seal.
Vocomatic works for longer stroke cylinders and provides consistent and repeatable cylinder performance.
Vocomatic is suitable for new designs and retrofitting.
Vocomatic provides a reduction of friction, temperature and wear.
Customer benefits:
Increased operational safety
Ability to effectively seal longer stroke cylinders
Stable long term behavior and extended service intervals
You have successfully added from to your part list.
---