SlipNOT® Slip Resistant Flooring Products
Product Announcement from SlipNOT Metal Safety Flooring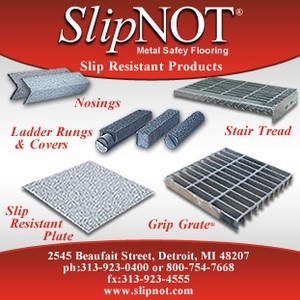 What is SlipNOT®?
SlipNOT® Metal Safety Flooring Products represents state of the art technology in slip resistant metal flooring products. From sure-step bar gratings, high traction safety floor plates, permanently safe ladder rungs and rung covers, sure-step stair treads and nosings, or anti-slip perforated and expanded metal, SlipNOT® is the one-time answer for increased productivity and the long-term solution for accident-free work zones. SlipNOT® is ideal for wet and/or oily surfaces. SlipNOT® is the safe choice for replacing slippery diamond plate, plain or serrated grating.
Process: SlipNOT® is a plasma stream deposition process applying molten metal to a metal substrate. This patented process results in a unique random hatch matrix surface. This surface provides the longest wear life and maximum slip resistance available. The SlipNOT® surface can typically be applied to material from as thin as 1/8" thickness. SlipNOT® prefers all material to be no wider than 72" and no longer than 144" for plates (longer lengths can be accommodated), and no longer than 288" for grating.
Strength: SlipNOT® is bonded to the metal substrate at over 4,000 psi resulting in a surface hardness of over 55 on the Rockwell "C" scale. This combination provides 100% surface coverage for unparalleled durability and traction even in the most demanding environments.
Material Types: Steel, Aluminum, and Stainless Steel. Steel products can be offered with a hot dipped galvanized finish.
Surface Coating Choices: SlipNOT® is available in Steel, Stainless Steel, and Aluminum.
Steel: Steel SlipNOT® is durable and cost effective. It is completely grit-free, has a bond strength of over 4,000 psi and surface hardness of over 55 Rc. This combination is unmatched by any other slip resistant material.
Stainless Steel: Combining chemical resistance, a proven bond strength of over 4,000 psi, and surface hardness of over 55 Rc, the patented SlipNOT® surface on Stainless Steel plate and Stainless Steel grating is the proven choice for even the most demanding environments. Grit-free and NSF approved, Stainless Steel SlipNOT® is ideal for use in the food, chemical industries and waste water treatment plants.
Aluminum: SlipNOT®'s Aluminum surface, like all SlipNOT® products, is completely grit-free and the ideal choice for lightweight, rust-free safety. With bond strength of over 2,000 psi, Aluminum SlipNOT® plates and grating provide high traction with lightweight durability.
Grades: SlipNOT® is available in three grades: Grade 1- (Fine), Grade 2 - (Medium) and Grade 3 - (Coarse).
Industries: SlipNOT® products are used in a variety of industries to increase productivity and worker safety. Companies such as Ford, General Motors, Daimler Chrysler, Kraft, PG&E, AT&T, US Steel, Mittal Steel, L.B. Foster, The US Coast Guard, ConEdison, and DOT's across the nation utilize SlipNOT® non-slip products.
You have successfully added from to your part list.
---