ID/OD Retaining Ring Lock
Product Announcement from Smalley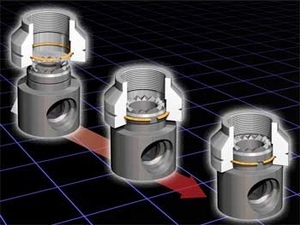 Smalley Spiral Retaining Rings can operate in an internal and an external groove at the same time. Spiral retaining rings have many great benefits for the ID/OD Lock, some of which include concealed fastening, no required assembly tooling, and a 360° rotational capacity. With a Smalley Spiral Retaining Ring, the application is tamper-proof and aesthetically pleasing.

In this featured application, the ring is initially installed in the housing groove. When the mating component in the assembly is added, the ring compresses into the groove. The groove is deep enough for the rings radial wall to fit into as the component slides into position. Finally, when the grooves meet, the ring snaps into the shaft groove (groove depth equals 1/2 the rings radial wall) while still in the housing groove. Smalley Steel Ring Company is a manufacturer of retaining rings and wave springs. Smalley has over 6,000 standard parts from 1/4" to 16" as well as specials from .200" to 120"; all are available in carbon and stainless steel, with No-Tooling-Charges™.

Visit Smalley on the web at www.smalley.com. From our site you can request samples, catalogs, and design assistance. You can also download our drawings in 3D!
---