Passive Speed Sensor Magna-Tran® sensors
Product Announcement from Smith Systems, Inc.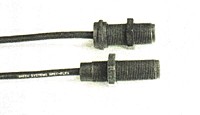 Passive Speed Sensor From Smith Systems:
075-003- Magna -Tran® Model 7500 Series Standard Passive Speed Sensor ( 3/4 - 16 UNF-2A)
Flow meters
Pump shaft speed
Transmission speed
Multiple engine synchronization
Engine RPM
Feedback for speed control
Over/under speed
Crankshaft position/engine timing
Wheel speed
Auto racing
Please use the links to he right for additional information, specifications and Drawings or to ask a question or to request a quotation for your application.
To download our full Standard and Custom Catalog please use this link: http://www.smith-systems-inc.com/products_and_services/online_catalog/online_catalog.pdf
Why Smith Systems?
Specialists in difficult applications
The premium manufacturer of OEM and after market
Proven in-service reliability
Factory direct sales and engineering support
Competitive pricing and on-time delivery
Mission Statement
Smith Systems, Inc.is an innovative manufacturer of state-of-the-art sensing products serving the world marketplace, dedicated to customer satisfaction, employee growth and community enhancement
Customer Satisfaction
Smith Systems, Inc.is firmly committed to the philosophy that quality and reliability make a product cost effective. To that end, Smith Systems, Inc.is not only concerned with customer wants, but customer needs and customer satisfaction. We are committed to service by providing the most reliable product possible.
High output, High Sensitivity Passive speed sensors convert mechanical motion to A/C voltage without an external power source. These self-contained magnetic sensors produce a magnetic field which, when in the proximity of ferrous objects in motion, generate a voltage. When a magnetic sensor is mounted in the proximity of a ferrous metal target, such as gear teeth on a rotating shaft, the voltage output frequency is directly proportional to the rotational speed of the target. Typically, lower in maintenance and operating costs than mechanical devices, these sensors have no switches to wear out, no rotating couplings to snap or bulbs to burn out. Magna-Tran® speed sensors are available in a variety of housing configurations and terminations. These self-generating sensors are available can supply signal outputs as high as 375 Volts Peak to Peak, depending on the application. These passive sensors are designed to accommodate a broad spectrum of temperatures ranging from -65°F to 450°F and are resistant to oil, dirt and moisture, and pass MIL-STD-202, Method 204, Condition D vibration tests.
You have successfully added from to your part list.
---