Product Announcement from Smith Systems, Inc.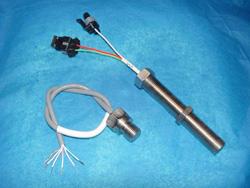 Smith Systems, Inc. has the in-house capability to combine speed, direction and temperature sensing in the same sensor housing. Applications with special sensing requirements or with limited room for mounting make effective use of this cost saving approach.
Designed to Survive in Your Operating Environment
Magna-Tran® speed sensors are available in a variety of housing configurations and terminations. These self-generating sensors can supply signal outputs as high as 375 volts peak to peak, depending on the application. They are passive sensors and are designed to accommodate a broad spectrum ranging from -65 degrees F to 450 degrees F, are resistant to oil, dirt and moisture, and pass MIL-STD-202, Method 204, Condition D vibration tests. High temperature models also available.
Smith Digi-Tran® Digital Sensors utilize integral active signal conditioning electronics to provide constant amplitude output regardless of exciter speed. The signal is compatible with digital equipment and discriminates between noise and signal in low frequency applications. All sensors provide a standardized output signal and may be designed in may configurations to meet countless applications. If your sensor requirements are different from those described here, we welcome the opportunity to help you design a sensor to meet their exact needs, including operating temperatures as low as -65 degrees F.
Thermo-Tran High Reliability Temperature Probes have been simplified by the performance and temperature graphics accompanying each standard of Thermo-Tran Sensor. Their experience ranges from high-reliability turbine exhaust gas temperature probes that reach 1000 degrees F, to freeze sensors that protect instruments and equipment from sub-freezing temperatures. They are an approved and qualified source for flight hardware and have supplied units for both civilian and military applications. These probes are available in 6 standard configurations:
Thermo-Fuse Probes
Thermostat Probes
Thermistor Probes
Thermocouple Probes
RTD Probes
If your application cannot be satisfied by any of their standard models, contact them with your requirements and let Smith Systems, Inc. design a unit to meet your unique specifications.

ISO-9001:2000 certified. Latest Issue Date: 10/13/2003.
You have successfully added from to your part list.
---