Product Announcement from Smith Systems, Inc.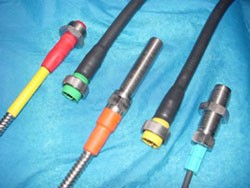 EZ-Change ® waterproof cable connector assemblies are designed to provide reliable signal and control information for your system in rugged environments.
Molding high-quality thermo-plastic rubber to our EZ-Change ® SpectraFlex cable offers a variety of performance and processing advantages over conventional thermo-setting elastomers. Exhibiting performance characteristics equivalent to those of synthetic rubber polymers, SpectraFlex cable also has superior environmental resistant qualities equivalent or superior to general purpose EPDM rubber compounds, and fluid resistant equivalent or superior to neoprene rubber. This unique combination of environmental and fluid resistance provides a TPR cable suitable for a broad spectrum of applications. Stainless steel braid or stainless steel armor is installed for extreme conditions. This additional material encapsulates the cable and provides protection from external forces.
Please use the links to he right for additional information, specifications and Drawings or to ask a question or to request a quotation for your application.
To download our full Standard and Custom Catalog please use this link: http://www.smith-systems-inc.com/products_and_services/online_catalog/online_catalog.pdf
To directly link to our Product Page, click here: http://www.smith-systems-inc.com/products_and_services/cable_and_signal_harnessing/
Smith Systems, Inc. is a company committed to meeting your unique requirements. We are here to assist with your integration of sensors into end products and systems. Whether the use is in process controls, aircraft gas turbine engines, critical speed controls and braking systems of rail cars, or in remote unmanned pumping and power generating stations. Smith Systems, Inc. can provide cost effective sensor solutions to meet your special application needs with quality and reliability designed into them.
Why Smith Systems?
Specialists in difficult applications
The premium manufacturer of OEM and after market
Proven in-service reliability
Factory direct sales and engineering support
Competitive pricing and on-time delivery
Mission Statement
Smith Systems, Inc.is an innovative manufacturer of state-of-the-art sensing products serving the world marketplace, dedicated to customer satisfaction, employee growth and community enhancement
You have successfully added from to your part list.
---