Solar Cell Testing Simulator - LS1000
Product Announcement from Solar Light Company, Inc.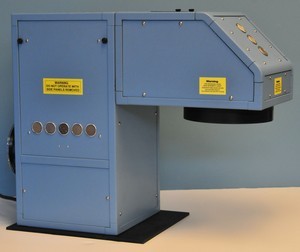 The LS1000-02 is a Solar Cell testing light source. The single output of the LS1000-02 produces full spectrum sunlight with a class "A" spectral output and +/- 5% uniformity. The LS1000-002 comes with a option of a vertical or horizontal beam output. The spot size is typically 6 inches round with an 1 sun output intensity. Custom spot sizes are available.
System:
1000, 1600, 3000 or 5000 watt xenon arc lamp
Xenon Lamp housing
Optics providing uniformity and collimation
XPS series power supply
AM1.5 Filters - Validated to the ASTM Laboratory Light Sources Standard
Igniter is used to ignite the xenon arc lamp
Features:
Reproduce UV and other spectra using Xenon, Xenon-Mercury, or Mercury short arc lamps
Standard and customizable simulators meet FDA, ASTM, ANSI, ISO, and IEC test protocols
Optional filters allow for user changeable spectra
UV and Air Mass 0 and 1.5 spectra available
Square beam size of 4", 6" and 8"
Round beam size of 2", 4", 6", 8", 10"
Beam uniformity across illuminated area better than +/- 5%
High efficiency, 1000 watt regulated switching power supply with adjustable current for variable intensity
Internal electric shutter
Ellipsoidal mirror captures up to 85% of lamp output
Forced air cooling system
Available with precision dose control system
Specifications:
Optional Spectra outputs: spectra of UV and Air Mass 0, 1, 1.5, and available
Beam size: vertical or horizontal beam, round diameters from 2 to 10 inches and square from 4 to 8 inches.
Light source: Choice of Xenon short arc or mercury xenon short arc lamps
Uniformity: ±5%
Collimation: <4° half angle.
Lamp lifetime: approx. 900 hours
Line Voltage: 220V
Weight: 35 - 45lbs (depending on model)
Dimensions (LxWxH): 23.75x10.5x20.25" (60.3x26.7x51.5cm) [4S and 6R models]
28.0 x10.5x20.25" (71.1x26.7x51.5cm) [6S and 8R models]
You have successfully added from to your part list.
---