Product Announcement from Ametek Solartron Metrology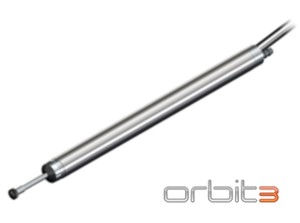 Ultra light probes are similar to Feather Touch Probes except they have a significantly lower moving mass and are capable of tip forces as low as 0.03N
Ultra Feather Touch Pneumatic Digital Gauging Probe (DW/P) - Specification
Ultra Feather Touch
Axial Cable Outlet DW/10/P
Radial Cable Outlet DWR/10/P
Body Diameter 8h6
Measurement Range (mm) 10
Pre-Travel (mm) 0.15
Over Travel (mm) 0.85
Accuracy (% of reading)1 0.06
Repeatability (µm) 0.15
Tip Force (N) @ centre travel ±20% 0.03 - 0.5 @ 0.4 bar
Resolution (µm) - User Selectable <0.05
Data Speed - User Selectable Up to 3906 readings per second
Environmental Protection n/a
1Accuracy 0.1 µm or % reading, whichever greater.
Accuracy assumes tip holder <20mm and mounted on center, spring operation with 1.5 N tip force.
Temperature Ranges (°C)
Storage: Probe + Signal Conditioning -20 to +70
Operating: PIE / T-Con 0 to +60
Probe Operating -10 to +80
Materials
Case Stainless Steel
Probe Tip Nylon or Tungsten Carbide
Cable 2m PUR
Digital Probe Interface Electronics
Bandwidth Up to 460 Hz
Output Serial RS485 signal level,
Orbit Network Protocol
Power (VDC) 5 ± 0.25 @ 0.06A (includes power for probe)
IP Rating IP43 (IP65 available on request)
Weight (g) Probe Interface 52
T-Con 36
T-Con with DIN 46
You have successfully added from to your part list.
---