Custom Machining Tools & Dies for Aerospace
Service Detail from South Bend Form Tool Co., Inc.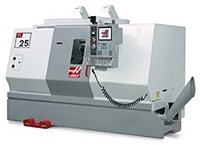 South Bend Form Tool's CNC turning center is a (Computer Numerically Controlled) machining process which is used for shaping any solid material while it spins on a fixed axis. A turning center is used to remove material to achieve rotational symmetry, and can be done on both inside and or outside surfaces of the part as required, while a cutting tool is traversed along its two axes. The cutting tools that are used in this automated process can be changed out automatically during the shaping of the part, to achieve the required depths and dimensions for the part. CNC turning centers are said to deliver repeated finished components at a faster production rate with optimum manufacturing accuracy. The automation of the CNC turning has a higher level of dimensional control and tolerance in every piece, along with part consistency or uniformity. Decreasing cycle times for all components produced in this method. The turning process can also be done manually, but cycle times and repeatability of will become the variables.
South Bend Form Tool Company, Inc. is an ISO 9001:2000 certified manufacturer of custom tools and dies for the aerospace, automotive and other technical industries, along with their general contract machining and tooling services. South Bend Form Tool uses the latest technologies to provide the highest level of quality in each of their capabilities and services. All of our equipment meets or exceeds the industry standards for accuracy and product quality. Along with our quality assurance departments trained in all aspects of precision measuring to ensure the highest level of quality time after time. We are proud to have offered the highest level of manufacturing and tooling services since 1953, and now with our focus on the future to come.
Join the following Aerospace and Ground Support companies who have trusted South Bend Form and Tool Co.
Airbus
Alaska Airlines
Asiana Airlines
B.F. Goodrich Aerospace
Boeing Aerospace Services
CEL Aerospace Test Equipment
Delta Aviation
DFAS-Columbus, OH
Egypt Air
GE
Honeywell Ground Support
Honeywell International
Lockheed Aircraft
Pratt Whitney
Rolls Royce Engines System
Saudi Arabian Airlines
Singapore Precision
U.S. Air Force
U.S. Army
You have successfully added from to your part list.
---