EMI Filter Plates with 1500 VDC Flash Protection
Product Announcement from API Technologies - Electromagnetic Integrated Services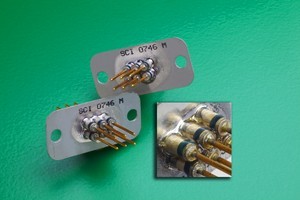 EMI Filter Plates Now Available with 1500 VDC Flash Protection
Fairview, PA - October 19, 2010 - Spectrum Advanced Specialty Products has developed the capability to add 1500 VDC Flash protection to its complete line of EMI Filter plates, ideal for any application where higher voltage surge protection is required. Adding flash protection to any of Spectrum's Bolt-in, EasyMate® or Shrouded Latch filter plates enables them to withstand up to 1500 VDC flash, making them a convenient and affordable choice for applications that need surge protection.

Spectrum's EMI filter plates come in right angle or straight configurations with Pi, C, and insulated filter circuit options. Additionally, these filter plates feature capacitance values from 10 pF to 5000 pF. Spectrum's filter plates are perfect for applications in the military, aerospace, telecommunications, medical, industrial and consumer industries. Cost ranges from $3 to $250 USD, dependent upon size and configuration.


Spectrum's complete line of EMI/RFI filter plates provides an excellent method for electronic system interface and EMI filtering. Products include Bolt-in Style filter plates, which eliminate the need to assemble filters into a bulkhead, Easy-Mate® Filter plates, which simplify installation to reduce installation time and overall cost, and Shrouded Latch filter plates, which are ideal for securing and protecting the filter element from exposure to mechanical shock and vibration.


About Spectrum Advanced Specialty Products:

Spectrum Advanced Specialty Products produces coaxial filters & interconnects, advanced ceramics, antennas & assemblies, specialty connectors & harnessing and power filters & film modules. Spectrum Advanced Specialty Products is a Spectrum Control Business.
About Spectrum Control:
Spectrum Control, an ISO 9001:2000 certified company, is comprised of four businesses: Advanced Specialty Products, Sensors and Controls, Power Management Systems, and Microwave Components and Systems.

Spectrum Microwave produces a wide range of microwave components and systems. Products include microwave filters, amplifiers, mixers, voltage-controlled oscillators (VCOs), dielectric resonator oscillators (DROs) and a wide range of RF & microwave systems & assemblies
.

Spectrum Sensors & Controls Precision Positioning Sensors Operation produces potentiometers and position sensors including rotary, motorized, hollow shaft, linear and fader types, as well as element segments and custom assemblies. The company's Advanced Thermal Products Operation produces temperature sensing probes and assemblies, PTC and NTC thermistors and resistive temperature detectors (RTDs).


Spectrum Power Management Systems produces AC and DC power distribution and remote management systems. Power solutions include off-the-shelf products as well as customized products or systems designed to suit specific user requirements.
---