Low Observable Antenna Has Low Angle Radiation
Product Announcement from API Technologies - Electromagnetic Integrated Services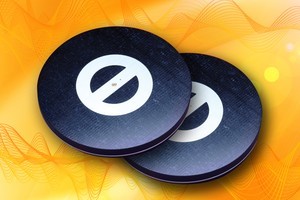 Fairview, PA - April 29, 2010 - Spectrum Advanced Specialty Products announces a new high performance antenna with a 3dB beam width horizon to 55° elevation with less than 3dB azimuth variation. With characteristics comparable to a 5/8 whip antenna, the Low Observable antenna is perfect for applications that desire a more discreet and compact antenna still able to achieve exceptional low angle radiation. Additionally, this linear antenna achieves a peak gain of -3dBil, while its rugged construction makes it suitable for extreme environments.
Available in sizes ranging from a diameter of 2.5" at ~915MHz to 11" at 150MHz with a 5/8" - 1.5" thickness, the Low Observable antenna has a scalable frequency of 136 to +915MHz. The Low Observable antenna is completely ground plane independent, and is excellent for applications such as VHF and UHF voice data and VHF/UHF LEO satellite systems, unmanned aerial and ground vehicles, police, fire and municipal systems, first responders, and more. The antenna is built to withstand temperatures ranging from -25ºC to +85ºC.


The Low Observable antenna joins a family of antennas and assemblies offered by Spectrum. As the industry's only true vertically integrated antenna solutions and systems provider, Spectrum is able to develop and produce an antenna from concept through manufacturing, saving time and money. From aperture, spiral and planar antennas to switched arrays and EBA's, Spectrum offers high efficiency, high gain antennas.

About Spectrum Advanced Specialty Products:
Spectrum Advanced Specialty Products produces coaxial filters & interconnects, advanced ceramics, antennas & assemblies, specialty connectors & harnessing and power filters & film modules. Spectrum Advanced Specialty Products is a Spectrum Control Business.

About Spectrum Control:
Spectrum Control, an ISO 9001:2000 certified company, is comprised of four businesses: Advanced Specialty Products, Sensors and Controls, Power Management Systems, and Microwave Components and Systems.

Spectrum Microwave produces a wide range of microwave components and systems. Products include microwave filters, amplifiers, mixers, voltage-controlled oscillators (VCO's), dielectric resonator oscillators (DRO's) and a wide range of RF & microwave systems & assemblies.

Spectrum Sensors & Controls Precision Positioning Sensors Operation produces potentiometers and position sensors including rotary, motorized, hollow shaft, linear and fader types, as well as element segments and custom assemblies. The company's Advanced Thermal Products Operation produces temperature sensing probes and assemblies, PTC and NTC thermistors and resistive temperature detectors (RTD's).

Spectrum Power Management Systems produces AC and DC power distribution and remote management systems. Power solutions include off-the-shelf products as well as customized products or systems designed to suit specific user requirements.
---