New Mini Hermetic L Circuit Solder-in EMI Filters
Product Announcement from API Technologies - Electromagnetic Integrated Services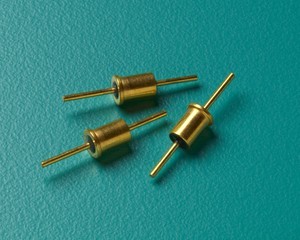 Spectrum's New Miniature Hermetic L Circuit Solder-in EMI Filters Improve Insertion Loss
Fairview, PA - September 23, 2010 - Spectrum Advanced Specialty Products announces the release of a new L circuit EMI filter designed to provide both inductance and series resistance for superior transient performance. This feed-through solder-in filter's miniature case size, .156"OD X .128"ID with body length of .200", for a total overall length of .715", is ideal for microwave and RF applications where space is an issue but that still require high performance EMI filtering with low insertion loss.
The new RoHS compliant, hermetically sealed L circuit filter provides excellent filtering from 10kHz to over 10GHz, with capacitance values from 10pF to 0.033µF and a 10Amp current rating. Voltage ratings range from 50VDC to 200VDC, with high reliability versions also available. The filter's rugged monolithic capacitor construction with a glass seal on one end provides extra protection from harsh environments, and is also gold plated for gold bonding. The miniature L Circuit adds to Spectrum's mature line of miniature feed-thru solder-in filters, which are available in a variety of terminations, sizes and circuit configurations.
Customized versions of the miniature L Circuit solder-in filter are available, including a reverse seal and special lead length and end termination options. Designed to be soldered into a package, bracket or bulkhead, the miniature L Circuit solder-in filter is perfect for microwave and RF applications such as attenuators, oscillators, multiplexers, synthesizers, yig filters and amplifiers. Prices range from $1 - $3 per part depending on quantity and configuration required, and custom inquiries are welcome.
About Spectrum Advanced Specialty Products:
Spectrum Advanced Specialty Products produces coaxial filters & interconnects, advanced ceramics, antennas & assemblies, specialty connectors & harnessing and power filters & film modules. Spectrum Advanced Specialty Products is a Spectrum Control Business.

About Spectrum Control:
Spectrum Control, an ISO 9001:2000 certified company, is comprised of four businesses: Advanced Specialty Products, Sensors and Controls, Power Management Systems, and Microwave Components and Systems.

Spectrum Microwave produces a wide range of microwave components and systems. Products include microwave filters, amplifiers, mixers, voltage-controlled oscillators (VCOs), dielectric resonator oscillators (DROs) and a wide range of RF & microwave systems & assemblies.

Spectrum Sensors & Controls Precision Positioning Sensors Operation produces potentiometers and position sensors including rotary, motorized, hollow shaft, linear and fader types, as well as element segments and custom assemblies. The company's Advanced Thermal Products Operation produces temperature sensing probes and assemblies, PTC and NTC thermistors and resistive temperature detectors (RTDs).

Spectrum Power Management Systems produces AC and DC power distribution and remote management systems. Power solutions include off-the-shelf products as well as customized products or systems designed to suit specific user requirements.
---