Rugged Temp Sensor Made for Difficult Environments
Product Announcement from API Technologies - Electromagnetic Integrated Services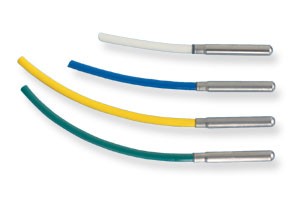 Spectrum Sensors and Controls introduces a ruggedized sensor for monitoring temperature in challenging applications, such as high moisture environments where the sensor is subject to continuous freeze/thaw cycles. The sensor's thermistor element is isolated from not only outside moisture, but also the high stress of freezing and thawing through a unique, swaged end design that provides an excellent moisture seal between the cable and housing. This ruggedized temperature sensor delivers quick response and excellent thermal tracking and is ideal for HVAC, food and beverage and refrigeration system applications.
Features
Waterproof to IP68
Tested to 10,000 freeze/thaw thermal cycles
Wide operating temperature range: -40°C to 105°C
Design allows for quick response and excellent thermal tracking
Excellent for freeze/thaw applications in HVAC, Food and Beverage, and refrigeration systems
Spectrum's new ruggedized temperature sensor has been tested to 10,000 freeze/thaw thermal cycles, is waterproof to IP68 and has a wide operating temperature range of -40°C to 105°C. The sensor features standard resistance values ranging from 2,252 to 10,000 Ω at 25°C with a wide variety of thermistor curves and resistances available to meet customers requirements. Standard cable length is 3 ft. with optional lengths and terminals available, and the sensor can be used with Spectrum's Clip-On assembly for 3/8" and 1/2" copper pipes.
Spectrum's ruggedized temperature sensor is designed to address ice build up, a common occurrence in many HVAC, appliance, refrigeration and food service appliances. In a standard temperature sensor, water can generally breach the end seal of the probe therefore allowing the ice to exert a significant force on the wire or cable. Once the water has penetrated the housing, subsequent freezing and thawing cycles help provide a direct moisture path to the thermistor element.
Spectrum's ruggedized temperature sensors are priced at $4.75 each @ 5,000 pieces.
About Spectrum Control
Spectrum Control, an ISO 9001 and QS 9000 certified company, designs, manufactures and markets a broad line of EMI/RFI filters and power components, power management systems, microwave components, and position and temperature sensors and controls.
Spectrum Sensors & Controls Advanced Thermal Products Operation produces temperature sensing probes and assemblies, PTC and NTC thermistors and resistive temperature detectors (RTDs). The company's Precision Positioning Sensors Operation manufactures a variety of precision co-molded conductive plastic potentiometers and position sensors, as well as element segments and cable assemblies. Designs for these potentiometers and position sensors include rotary, motorized, hollow shaft, linear and fader types, as well as custom assemblies.
The Spectrum Control EMI Filters and Components Group produces discrete surface mount EMI filters, resin sealed and hermetically sealed EMI filters, EMI filtered arrays, EMI filtered connectors, ESD/EFT protected connectors, filtered data-com connectors, gaskets and shielding, patch antenna elements, single line filters, filtered terminal blocks, power entry modules, power line filters, military/aerospace multi-section filters, and commercial custom assemblies. Spectrum Power Management Systems produces AC and DC power distribution and remote management systems. Products include off-the-shelf SMART start products as well as customized products or systems designed to suit specific user requirements. DC power circuit breaker & fuse interface panels, power outlet strips and data acquisition modules are also offered.
Spectrum Microwave is a wholly owned subsidiary of Spectrum Control, Inc. and produces a wide range of microwave components and systems. Integrated Microwave Systems include switchable filter banks, low noise amplifiers, local oscillator multipliers, microwave synthesizers, digitally tuned oscillators and integrated assemblies. Microwave Filters include bandpass filters and duplexers, lumped element filters, cavity filters, waveguide filters, tubular filters, base station products and resonators. Frequency Control Components include a wide range of amplifiers, mixers, voltage controlled oscillators (VCOs) and dielectric resonator oscillators (DROs).
You have successfully added from to your part list.
---