Dual Channel Vibration Data Collector / Analyzer
Product Announcement from Spectrum Instruments Ltd.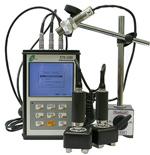 The Technekon Model STD-3300 is a portable 2-channel responsive vibration data analyzer. It collects, processes, and stores data through 2-channels simultaneously and provides 1- and 2-plane rotor balancing programs. It is used for thorough condition monitoring and diagnostics of rotors, compressors, pumps, turbines, fans, and electric motors.
FEATURES
Absolute synchronous two-channel, 24 bit processing
Automatic detection of sensor type and sensitivity
256 Mb of internal memory
On-route and off-route monitoring points
Wide data analysis functionality
Wide frequency range - 32 khz
High resolution (up to 25K lines)
Wide choice of filters
Run up and coast down Out-of-balance detection and 1- and 2- plane balancing programs
Compact, light and easy to use
INCLUDED IN EACH KIT:
1 x STD-3300 Vibration Data Analyzer
2 x VP-9 Vibration Sensor with integral cable
2 x Magnetic Mount
2 x Sensor Stick
1 x Marker & Holder
1 x Charger
1 x Analyzer Case
1 x Off-route Data Aquisition Software
1 x User Manual
1 x Carry Case
SAVE $$$
A STD-3000 single channel vibration analyzer is now available!
---