ECONOFLEX ARTICULATING VIDEOPROBE BREAKS $ BARRIER
Product Announcement from Spectrum Instruments Ltd.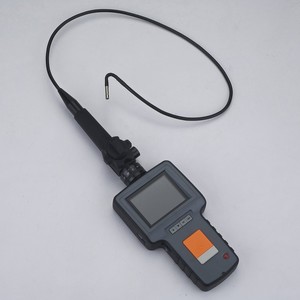 CatsEye Econoflex is a family of ultra low-cost 6mm articulating video probe systems that are compatible with many of our CatsEye 6000 Series' accessories. The Econoflex optical inspection tool includes remote tip articulation and 360 deg probe rotation control to facilitate the inspection of awkward or hard-to-reach targets.
The Econoflex optical inspection system is comprised of an articulating probe assembly which is permanently connected to a CatsEye 6000 style viewer/recorder forming a single, yet simple-to-operate, video inspection tool. The CatsEye 6000 style viewer/ recorder provides power and control to the Econoflex's probe tip LEDs as well as the probe's integral CMOS color camera. High resolution real-time color images are displayed on the CatsEye 6000's integral 3.5" LCD display. The CatsEye Econoflex optical inspection system incorporates both features and attractive pricing that combined, offers the kind of value that Spectrum's customer's have come to expect.
Complete Econoflex systems can be purchased with an investment of less than $2,000. USD;
Reguest our latest CatsEye Econoflex brochure at info@spectrum-instruments.com
---