HawkEye - Low Cost Industrial Grade Video Probe
Product Announcement from Spectrum Instruments Ltd.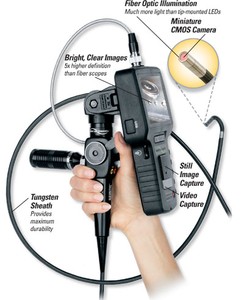 HawkEye offers industrial grade features at reasonable prices - our 2-way and 4-way probes are constructed with a Tungsten sheath surrounded by a stainless monocoil which is in turn covered with a stainless steel braid and polyimide cover. This rugged design resists both chemical attack and premature mechanical wear. A CMOS camera embedded in the probe tip is isolated by a high quality optical lens that significantly reduces imagine reflection issues common to other CMOS camera probe systems. An integral light bundle provides light to the inspection target from a rechargeable bright white LED light source.
A detachable mounting mechanism connects our Digital Color LCD Viewer / Recorder Controller to the articulating probe assembly. Decoupling the articulating probe from the controller allows the controller, when needed, to be used with a wide variety of other optional probes making this an ideal tool for multi-tasking. The Controller also allows the operator to adjust light intensity, image hues as well as managing image storage.
VIEW / RECORD / SHARE
VIEW your images on a high resolution 3.5" color LCD. RECORD your images for post inspection analysis on a removeable 1 Gb minimum SD memory card. For reporting, SHARE your images with others via a USB download connection or by removing the SD card.
Cost effective, feature rich, robust industrial design and multipurpose functionality are why HawkEye should be your natural choice for an articulating video probe inspection tool.
For more information on HawkEye and our other optical inspection tools, click here
---