Pipe Inspection System - Explosion Proof
Product Announcement from Spectrum Instruments Ltd.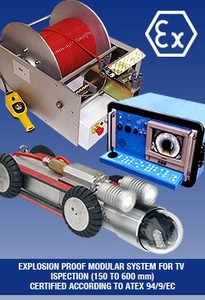 The Model Gisys Explosion Proof (ATEX 94/9/EC) Video Inspection System provides outstanding video images of inside piplines from 150 - 600mm in diameter. The system's pan and tilt color camera head, integrated lighting system and crawler are safe to operate even in the most hazardous of locations. The intuitive and rugged design of the remote operator's station make it easy to use, even in the worst weather conditions (IP 65 rated)
System includes the following items:

DTR65HR Ex TV Camera
(ATEX certified according to directive 94/9/EC, Eex d IICT5)

• Resolution - >450 TV Lines
• Sensitivity - 0.1 lux
• Remotely Controlled Focus
• Diameter - 74mm
• Stainless Steel Housing
• Operating Depth - 100m in water
• Head Movements - Tilt +/- 110 Degrees, Infinite Rotation
• Internal Light by Ultra Bright LED's with 50,000 hrs lifetime, providing 20 lux at 1m

Electrical Tractor VSCE200
The Gisys VSCE200 Ex tractor is steerable and explosion proof (ATEX 94/9/EC) and watertight up to 5 meters.

• Modular design for use within pipelines 150 - 1200mm diameter
• Multidirectional - two seperate motorised blocks
• Stainless steel housing
• Depth Rating - 5m in water
• Power - 2 x 100w
• Adjustable Speed - 0 - 15m/min

Motorized Winch TMO300

• Capacity - 300m of umbilical cable
• Cable Distribution System
• Winding and unwinding speed slaved to forward / backward movement of the camera
• Electronic distance counter

Umbilical Cable ORO 0200

• Internal Kevlar Braid (Pulling Force = 300kg)
• External Polyurethane Sheath
• 10mm Diameter

Control Unit VSR55

• Control of TV camera, lights and tractor
• Link to PC - RS232 for data/video digitising
• Shockproof
• Waterproof Container - IP65

Optional Items

• Additional VSE Halogen Lights (2 x 35w), with Depth Rating of 50m in Water
• Adjustable Umbilical Cable Guide, To Protect Cable in Manhole
Approximate Total Weight: 45 Kg
Other non-explosion proof rated systems are available for pipe diameters from 80mm to 1200mm.
For more information, contact Spectrum Instruments Ltd at info@spectrum-instruments.com or one of our many local authorzied Spectrum agents around the world.
---