Product Announcement from Stahlin Enclosures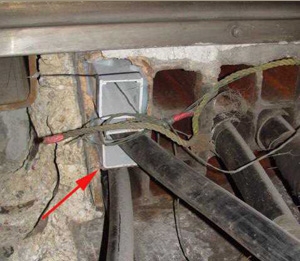 As one of the most active arteries to the city of New York, the Holland Tunnel is an essential part of the daily traffic flow and therefore needs to be operational at all times. Recently the terra cotta wireway in the Holland Tunnel was in need of repair due to damage sustained during a re-construction and update of the tunnel. The repair had to be done quickly and effectively so it would not be the cause of delay of traffic any longer.
The Port Authority of New York and New Jersey had two important needs for the new wireway, it had to fit precisely inside the existing wireway to allow cables to run through without interference and it had to stand up to a very corrosive environment. The Port of Authority was informed by the local electrical representative that Stahlin Non-Metallic Enclosures had the capability to manufacture the product needed to complete the project requirements.
Not only did Stahlin's custom manufactured wireway fit in the existing unusually tight space, 3.5" x 3.5", it also provided the Port Authority the ability to re-connect and continue the run. Stahlin's wireway acted as a continuation for pieces of the old terra cotta wireway that were damaged. By using Stahlin's wireway they were also able to overcome the hassle of working with metal, ie., cutting, fastening, filing, burrs etc., so the installation of the wireway was done extremely quickly and easily saving numerous months of construction time for the Port Authority.
The wireway is exposed to continuous heavy amounts of moisture and concrete chemicals. The moisture is due to its placement 90 feet below the Hudson River so the Port Authority knew the product had to be non-metallic. The non-metallic chemical properties of Stahlin's wireway made it an excellent corrosion resistant product for the project. The wireway also had to be encased in concrete and so it could not have a reaction to the chemicals from the cement, which it does not.
For additional information about Stahlin Non-Metallic Enclosures products, contact Teresa Ramirez, 500 Maple Street, Belding, Michigan 48809. Phone: 616-794-0700, fax: 616-794-3378.
Photo Caption: Red arrow indicates use of Stahlin fiberglass wireway in New York City's Holland Tunnel. Specifications required that new wireway had to fit precisely inside damaged existing terra cota wireway to allow cables to be run without interference. Stahlin wireway also met requirements for being highly corrosion resistant and cost effective.
You have successfully added from to your part list.
---