Product Announcement from Standex-Meder Electronics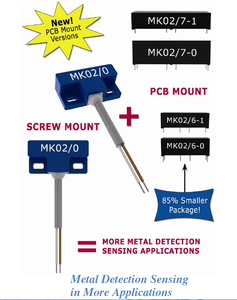 MK02 Metal Detection Series Reed Sensors
· Alternative to inductive proximity sensors
· No external power required
· The MK02 Series offers robust packaging in screw panel mount and now PCB through hole mounting
· 85% smaller package than MK02/5
· No external magnet required. Senses ferromagnetic materials from front or above actuation
· Non-contact position and proximity sensing
· Potential ON/OFF sensing distances range from 3.5mm-15mm from sensor
· Screw flange mount has two optional sabotage loop versions
· Available in four package sizes: 2 PCB mount and 2 screw mount
Standex Electronics and MEDER electronics are now officially operating as one company. This combination unites two market leaders, Standex in the design and manufacture of custom magnetics and reed switches, and MEDER in a wide range of reed switches, reed relays and sensors.
Together, along with MEDER's long-term partnership and ongoing cooperation with OKI Sensor Devices, we are uniquely positioned to provide our customers with a product portfolio that includes engineered product solutions for a very broad spectrum of product applications across every region of the world. The combined company will operate under the name Standex-Meder Electronics and be headquartered in Cincinnati, Ohio, USA.
What does this mean for you?
A broader and deeper range of products
A commitment to customer driven innovation
Sales support and technical resources available worldwide
A financially strong partner with a long-term strategy for growth
Although Standex Electronics and MEDER electronic have separate histories, they have always shared a common objective: to ensure absolute customer satisfaction. We remain dedicated to this objective now that we are operating as one. Your existing sales and support contacts remain in place, so you can use the same communication channels to which you are accustomed.
Standex-Meder Electronics is privileged to serve thousands of customers in over 50 different countries. The depth of our resources and the breadth of our reach are now stronger than ever. With this in mind, rest assured that the integration of these two businesses will be a gradual process, with no disruption to customer service.
Magnetic Reed Switches, Reed Relays, Reed Sensors and Level Sensors for your specific application needs!
MEDER electronic is a global leader in the custom design, development and manufacture of Magnetic Reed Switch, Reed Relay and Reed Sensor solutions.
MEDER is a preferred source for OKI Reed Switches.
Our markets include: Aviation, Test & Measurement, Medical, Automotive, Telecommunications, Industrial, Household, Security, Marine, Recreational Vehicles, etc.
ISO/TS: 16949:2009 & ISO 9001:2008 Certification
Standex Electronics has been a leading manufacturer of custom electro-magnetic components and assemblies for over 40 years. Our product portfolio includes reed switches and reed relays, transformers and inductors, proximity sensors and fluid-level sensors, antennas and coils, connectors, lighting products, as well as current sense and planar transformers.
Markets and Applications Overview
Standex Electronics serves a variety of markets including, but not limited to the following.
Standex components — including reed switch type sensors, non reed switch sensors, and electrical transformers — are used in many consumer and commercial appliances. Customers rely on us for innovations such as a safety lid that features "no tools" installation, liquid-level switch for monitoring viscous fluids, transformers to power ancillary components, and many more appliance applications.
Standex manufactures fluid-level sensors, immobilizer security antennas and other electronic components for automotive applications. Our global footprint means that we can manufacture parts around the world depending upon expertise, logistics and costs involved. Experienced engineers offer suggestions on your system designs, while in-house molding, winding, termination, assembly and stamping bring your design to reality.
Standex designs custom transformers and power supplies to meet and exceed demanding HVAC/R application requirements. From custom current sensors which accurately control the production of frozen drinks to transformers for industrial & commercial HVAC control systems, Standex products can help you succeed. Companies seeking to differentiate themselves with extended warranties are finding that our custom designed and fully-potted power supplies last longer than your warranty timeframes. Over-molding of parts ensures proper form, fit and function — and provides protection from the elements. Don't let your blood boil because of your exacting requirements for current draw, output voltage or a unique footprint. With decades of experience, Standex engineers will have you "chilling" in no time.
Standex provides customers in a wide range of industries with custom electrical components to suit their precise requirements. From basic coils to complex value-added assemblies, customers rely on us for their most demanding applications. Standex products can be found in control systems, marine engines, power transmission equipment, robotics, earth moving equipment and more.
Standex igniters are the first in a string of components which light the bulbs illuminating many of the world's roadways. As the initiator of the sequence it is imperative that they deliver the correct current to other components each time — every time — and for a very long time. Our long tradition of custom electrical component design, coupled with the lighting manufacturer's knowledge of their application requirements formed the basis for a collaborative approach that yielded impressive results. Like lighting that surpasses the industry's most stringent life cycle-testing in the most severe conditions. Working with the world's largest manufacturer of street lighting we're able to illuminate the world's roadways. We can help to shed some light on your projects too!
Trust is paramount in the medical device and equipment industry. So when their reputation is on the line, OEM manufactures rely on Standex. We supply custom-designed electronic components for MRIs, portable x-ray machines, hospital beds, dental lamps, dental chairs, electrosurgical tools, and more. From basic transformers to complete power source assemblies, Standex engineers custom products to exacting requirements. Our value-added assemblies meet rigorous quality standards — which frees the OEMs from the tedious process of supply chain management. If trust is important to your business — then choose Standex. It's just what the doctor ordered.
Component failure can have catastrophic consequences for military and aerospace missions — that is why many suppliers turn to Standex Electronics. For over 50 years Standex / Magnetico has supplied electrical components which have contributed to the success of the International Space Station, NASA missions, US military aircraft, satellite manufacturers, and more. Our team provides the engineering expertise coupled with AS9100 certified manufacturing capabilities which are proven in an unsurpassed testing and validation laboratory. Whether your project is designed for service at 30,000 feet or in outer space, don't leave the Earth without Standex!
Recreational/Transportation Solutions
We can provide components or integrate them into value-added assemblies to streamline production and reduce assembly time and cost. Our engineers are trusted resources at each step of the process. In house capabilities — including molding, stamping, winding, termination and assembly — make us unique and uniquely qualified to handle recreational/transportation applications.
As sensors for security switches become smaller, Standex continues to innovate — with smaller magnetic reed switches that address the escalating demands for higher switching ratings for voltage, current and power in smaller packages. We cover the spectrum — from logic level applications to 240VAC power line switching — Standex is the choice for magnetic reed switches.
You have successfully added from to your part list.
---