Product Announcement from Standex-Meder Electronics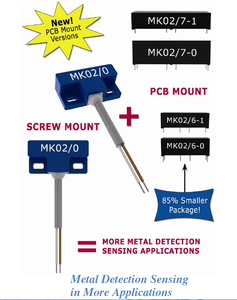 MK02 Metal Detection Series Reed Sensors
· Alternative to inductive proximity sensors
· No external power required
· The MK02 Series offers robust packaging in screw panel mount and now PCB through hole mounting
· 85% smaller package than MK02/5
· No external magnet required. Senses ferromagnetic materials from front or above actuation
· Non-contact position and proximity sensing
· Potential ON/OFF sensing distances range from 3.5mm-15mm from sensor
· Screw flange mount has two optional sabotage loop versions
· Available in four package sizes: 2 PCB mount and 2 screw mount
Standex Electronics and MEDER electronic are now officially operating as one company. This combination unites two market leaders, Standex in the design and manufacture of custom magnetics and reed switches, and MEDER in a wide range of reed switches, reed relays and sensors.
Together, along with MEDER's long-term partnership and ongoing cooperation with OKI Sensor Devices, we are uniquely positioned to provide our customers with a product portfolio that includes engineered product solutions for a very broad spectrum of product applications across every region of the world. The combined company will operate under the name Standex-Meder Electronics and be headquartered in Cincinnati, Ohio, USA.
What does this mean for you?
A broader and deeper range of products
A commitment to customer driven innovation
Sales support and technical resources available worldwide
A financially strong partner with a long-term strategy for growth
Although Standex Electronics and MEDER electronic have separate histories, they have always shared a common objective: to ensure absolute customer satisfaction. We remain dedicated to this objective now that we are operating as one. Your existing sales and support contacts remain in place, so you can use the same communication channels to which you are accustomed.
Standex-Meder Electronics is privileged to serve thousands of customers in over 50 different countries. The depth of our resources and the breadth of our reach are now stronger than ever. With this in mind, rest assured that the integration of these two businesses will be a gradual process, with no disruption to customer service.
Products:
Standex Electronics produces a broad range of magnetic reed switches which are RoHS complaint - and many are UL recognized. From dry circuit switching to 70VA, from switching microvolt levels to switching 1,000 VDC, these switches are capable of tens of millions of trouble-free switching cycles. Our unique, patented, and highly automated production process allows us to produce very cost-effective switches with outstanding physical and electrical characteristics. In fact, our GR150 is the world's smallest magnetic reed switch.
Traditional, surface mount and overmolded versions are ideal for use within:
Proximity sensors
Fluid level sensors
Reed relays
Medical devices such as hearing aids and pill-shaped cameras
Consumer appliance
Commercial and industrial equipment
Standex incorporates our magnetic reed switches into a wide variety of proximity sensors and switches for many applications. Our unique and patented production process allows us to produce not only very small red switches but when we incorporate these into proximity sensors - the result is very small sensors with very big performance characteristics. These ultra-miniature components allow big improvements in the performance of diverse products within medical devices, in security systems, inside safes, and industrial control applications.
Standex manufactures fluid level sensors using magnetic and conductive sensing technology to best suit customer requirements. Our unique designs are helping companies to gain competitive market advantages. Our conductive fluid level sensors have false full protection and current level shift to indicate fluid level. Custom molding capabilities allow us to design and build float and sensors to suit any fluid level sensing application. That's one reason why we're the partner of choice for automotive fluid sensing projects.
Magnetic Components - Low Frequency
Standex offers a full line of low frequency transformers, inductors and chokes in standard and custom designs. We have products to fit most needs in the 50/60Hz to 40Hz range. Most of these products are UL/CSA recognized or are designed to meet UL/ CSA/VDE requirements - with other agency approvals gained as needed. Our unsurpassed in-house capabilities (stamping, molding, winding and termination) mean we can tailor a standard product or start from scratch with a new design.
Products available:
Class 2 transformers, wired, in plastic casing
Chokes mounted in L bracket or channel frame
Toroidal common mode chokes
PC mount current transformers
Class 2 energy limiting wall plug, wired, cord connected or PC mounted transformers
Autotransformers in open, enclosed or toroidal designs
Control circuit transformers
And more
Standex has a long history of developing current sense transformers to solve unique customer challenges. We offer both standard products like CSB series plug-in solutions for PC board mounting - to custom engineered products designed for extreme conditions and hazards - like temperature, radiation, humidity and more. Designs are available in open toroidal construction or custom moldings - with virtually any current ratio, output or capacitance desired. Many termination options are available - including P.C. mount, flying lead, custom leads and connectors, and more.
Standex manufactures planar transformers for demanding applications like military and aerospace projects. In addition to manufacturing custom products to exacting standards with precise electrical characteristics like capacitance, output and aspect ratio - we prove these planar transformers in an industry leading environmental and electrical test facility. Mounting and termination options are available to suit virtually any application requirements. When failure is not an option, designers of critical electronic components rely on Standex and their decades of experience.
Standex supplies antenna coils and components using leading edge design and manufacturing technologies. Our products are used throughout the world in innocuous environments like automotive keyless entry, or garage door openers to military sonobuoys in remote locations. Our immobilizer security antennas are used in many automotive, motorcycle and marine ignition systems - while our antenna coils are found on in-home security systems. Our 125 KHz RFID antenna receivers can be custom molded into any configuration for virtually limitless applications.
Standex can mold, crimp, form, stamp and create virtually any type of terminal connection imaginable. And since we have the capabilities in-house, we can accomplish this faster and ensure that all components fit together and function properly. With high-volume progressive die stamping capabilities, wire prep and wire harness assembly, and connector and terminal engineering, Standex is ready to tackle any connector problems. We can even integrate into upstream/downstream components like sensors to simplify installation and reduce costs.
MEDER Reed Switches
MEDER Reed Relays:
MEDER Reed Sensors:
Standex-Meder Electronics is committed to protecting the privacy of your personal information. Your contact info is used for the sole purpose of responding to incoming product and information requests.
You have successfully added from to your part list.
---