Product Announcement from Standex-Meder Electronics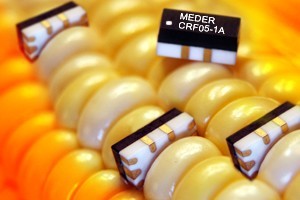 7GHz CR Series Reed Relay
The CR series is our smallest and most versatile instrument grade reed relay series. The CRF Series has a flat insertion loss curve from DC up to 7 GHz, attained by keeping the signal path as short as possible and using an internal coaxial shield with a consistent 50 Ohm impedance path. Not only is it excellent with RF signals, but is also great for digital signals where the skew rates or effects on the rise time of fast digital pulses is less than 40 picoseconds through the relay.
The epoxy over-molded ceramic package is very rugged and has very good low thermal offset voltage capability as low as 1 microvolt because of its excellent heat conducting alumina substrate. The ceramic substrate has leadless gold plated pads making it ideal for surface mounting with no worry of lead skewing or coplanarity issues. Additionally, the ceramic substrate has a thermal coefficient of expansion that exactly matches the reed switch glass and the reed lead to eliminate any potential packaging stress.
The CR series is only 3.4 mm high, making it ideal for very low profile environments. Because there is an internal magnetic shield, the relays can be stacked very close together without having to deal with magnetic coupling effects between relays. This is the case whether you are dealing with a two dimensional or three dimensional relay matrix. For more height off the PCB, we have a BGA option available.
The CR Series is capable of switching into the billions of operations and can also withstand reflow-soldering operations up to 260°C. Measuring only 8.6mm x 4.4mm x 3.4mm, the leadless design eliminates skewing of leads and co- planarity issues. Insulation resistance typical to all points is >1014 Ohms.
FEATURES
Ceramic / thermoset molded package
Patent pending
Smallest in the industry
No lead frame surface mount design eliminates skewing of leads and co-planarity issues
Available with BGA (Ball Grid Array)
Internal magnetic shield standard
Very low profile
Gold plated leads
Low thermal offset typical of 1 µV
TCE matching of all internal components
Insulation resistance typical of 1014 Ohms
3 volt option available
APPLICATIONS
Standex Electronics and MEDER electronic are now officially operating as one company. This combination unites two market leaders, Standex in the design and manufacture of custom magnetics and reed switches, and MEDER in a wide range of reed switches, reed relays and sensors.
Together, along with MEDER's long-term partnership and ongoing cooperation with OKI Sensor Devices, we are uniquely positioned to provide our customers with a product portfolio that includes engineered product solutions for a very broad spectrum of product applications across every region of the world. The combined company will operate under the name Standex-Meder Electronics and be headquartered in Cincinnati, Ohio, USA.
What does this mean for you?
A broader and deeper range of products
A commitment to customer driven innovation
Sales support and technical resources available worldwide
A financially strong partner with a long-term strategy for growth
Although Standex Electronics and MEDER electronic have separate histories, they have always shared a common objective: to ensure absolute customer satisfaction. We remain dedicated to this objective now that we are operating as one. Your existing sales and support contacts remain in place, so you can use the same communication channels to which you are accustomed.
Standex-Meder Electronics is privileged to serve thousands of customers in over 50 different countries. The depth of our resources and the breadth of our reach are now stronger than ever. With this in mind, rest assured that the integration of these two businesses will be a gradual process, with no disruption to customer service.
Products:
Standex Electronics produces a broad range of magnetic reed switches which are RoHS complaint - and many are UL recognized. From dry circuit switching to 70VA, from switching microvolt levels to switching 1,000 VDC, these switches are capable of tens of millions of trouble-free switching cycles. Our unique, patented, and highly automated production process allows us to produce very cost-effective switches with outstanding physical and electrical characteristics. In fact, our GR150 is the world's smallest magnetic reed switch.
Traditional, surface mount and overmolded versions are ideal for use within:
Proximity sensors
Fluid level sensors
Reed relays
Medical devices such as hearing aids and pill-shaped cameras
Consumer appliance
Commercial and industrial equipment
Standex incorporates our magnetic reed switches into a wide variety of proximity sensors and switches for many applications. Our unique and patented production process allows us to produce not only very small red switches but when we incorporate these into proximity sensors - the result is very small sensors with very big performance characteristics. These ultra-miniature components allow big improvements in the performance of diverse products within medical devices, in security systems, inside safes, and industrial control applications.
Standex manufactures fluid level sensors using magnetic and conductive sensing technology to best suit customer requirements. Our unique designs are helping companies to gain competitive market advantages. Our conductive fluid level sensors have false full protection and current level shift to indicate fluid level. Custom molding capabilities allow us to design and build float and sensors to suit any fluid level sensing application. That's one reason why we're the partner of choice for automotive fluid sensing projects.
Magnetic Components - Low Frequency
Standex offers a full line of low frequency transformers, inductors and chokes in standard and custom designs. We have products to fit most needs in the 50/60Hz to 40Hz range. Most of these products are UL/CSA recognized or are designed to meet UL/ CSA/VDE requirements - with other agency approvals gained as needed. Our unsurpassed in-house capabilities (stamping, molding, winding and termination) mean we can tailor a standard product or start from scratch with a new design.
Products available:
Class 2 transformers, wired, in plastic casing
Chokes mounted in L bracket or channel frame
Toroidal common mode chokes
PC mount current transformers
Class 2 energy limiting wall plug, wired, cord connected or PC mounted transformers
Autotransformers in open, enclosed or toroidal designs
Control circuit transformers
And more
Standex has a long history of developing current sense transformers to solve unique customer challenges. We offer both standard products like CSB series plug-in solutions for PC board mounting - to custom engineered products designed for extreme conditions and hazards - like temperature, radiation, humidity and more. Designs are available in open toroidal construction or custom moldings - with virtually any current ratio, output or capacitance desired. Many termination options are available - including P.C. mount, flying lead, custom leads and connectors, and more.
Standex manufactures planar transformers for demanding applications like military and aerospace projects. In addition to manufacturing custom products to exacting standards with precise electrical characteristics like capacitance, output and aspect ratio - we prove these planar transformers in an industry leading environmental and electrical test facility. Mounting and termination options are available to suit virtually any application requirements. When failure is not an option, designers of critical electronic components rely on Standex and their decades of experience.
Standex supplies antenna coils and components using leading edge design and manufacturing technologies. Our products are used throughout the world in innocuous environments like automotive keyless entry, or garage door openers to military sonobuoys in remote locations. Our immobilizer security antennas are used in many automotive, motorcycle and marine ignition systems - while our antenna coils are found on in-home security systems. Our 125 KHz RFID antenna receivers can be custom molded into any configuration for virtually limitless applications.
Standex can mold, crimp, form, stamp and create virtually any type of terminal connection imaginable. And since we have the capabilities in-house, we can accomplish this faster and ensure that all components fit together and function properly. With high-volume progressive die stamping capabilities, wire prep and wire harness assembly, and connector and terminal engineering, Standex is ready to tackle any connector problems. We can even integrate into upstream/downstream components like sensors to simplify installation and reduce costs.
MEDER Reed Switches
MEDER Reed Relays:
MEDER Reed Sensors:
You have successfully added from to your part list.
You need Flash player 8+ and JavaScript enabled to view the Smallest & Most Versatile Instrument Grade Relay video.
Get the Latest Flash player.
---