Medical Braiders in Various Sizes
Product Announcement from Steeger USA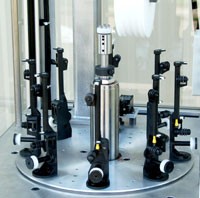 Vertical Fine Wire Braider - K80 Series
These braiders are workhorses for the medical industry. They're used in the production of catheters, tubes and a variety of invasive and non-invasive products which need designed flexibility, stiffness, kinkability, torque and radial strength.
Steeger USA braiders are available starting with 4,8,12,16,24,32,48,64 and any size devisable by four.Our carrier design, which unrolls wire from a horizontally placed bobbin enables braiding the most tension sensitive materials without coiling or twisting.
The carrier will handle:
Stainless Steel, NiTi, Titanium, Copper
Round Wire 0.0005 to 0.005
Flat Wire 0.0007 to 0.005 (0.003) and 0.0005 to 0.003 (0.005)
Multi Filament Yarns
Kevlar, Vectra, Spectra denier - Monofils, Optical Fibers in the 0.002 - 0.005 range single end of copper wire 0.003, multiple ends of 0.001
For the electrical conductor industry, the
K80-16 Fine Wire Braider handles wires up
to 50 guage (AWG) - (5 ends per bobbin) for production of coax cable, antenna cables, microprocessor cable etc.
---