CR 030 High perfomance Fan Heater
Product Announcement from STEGO, Inc.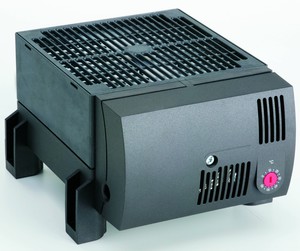 The compact CR 030 high performance fan heater prevents formation of condensation and provides an evenly distributed interior air temperature in enclosures. This fan heater is available with an integrated thermostat for temperature control or a pre-set hygrostat for humidity control. The CR 030 was designed as a stationary unit for the bottom of the enclosure. For panel or DIN rail mount, the CR 130 fan heater is recommended.
Compact design
Built-in overheat protection
Integrated adjustable thermostat or fixed hygrostat
Double insulated plastic housing
STEGO develops, manufactures and markets innovative products for perfect thermal management for over thirty years. Customers all over the world appreciate our premium-quality product range for its known reliability and durability.
STEGO is continuously advancing: with our redesigned website, a new catalog and increased marketing and trade show activity, we want to show our commitment and give you a better understanding of our products. Because you can count on one thing: STEGO is "Simply innovative. Better for sure."
---