KT 011 Small Thermostat
Product Announcement from STEGO, Inc.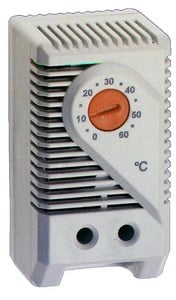 Thermostat NC (normally closed)
Thermostat opens on temperature rise - for regulating heaters or for signal devices. Comes with red temperature dial.
Thermostat NO (normally open)
Thermostat closes on temperature rise - for regulating filter fans and heat exchangers or for switching signal devices. Comes with blue temperature dial.
With the experience of more than three decades, STEGO has developed into a leading provider in the field of climatization of enclosures and switch cabinets. STEGO solutions are used where operational safety and reliability is the ultimate objective. User-friendly and well-engineered solutions, developed in long practice, ensure the safe operation of many different installation types.
In order to meet these ambitious tasks, we systematically combine innovation and design in view of the applications. The result are products - outstanding in design and usability - created and developed in Schwäbisch Hall, Germany. STEGO is DIN EN ISO 9001:2008 and DIN EN ISO 14001:2009 certified. For a continuous optimization of our quality management system the Six Sigma method was introduced on top.
---