Product Announcement from StellarNet, Inc.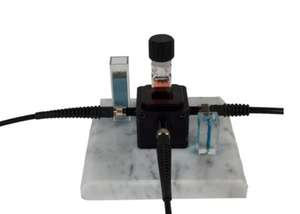 • 190 nm-2200nm Spectral Range- effective for color, transmission and absorbance measurements
• Standard 1 cm pathlength- holds 1 cm plastic, glass, and quartz cuvettes
• Fluorescence measurements- using the 90 degree pickup port and the black anodized cover (not shown)
• Flexible design- can use up to 4 fiber optic ports or a low cost option with only 2 collimators
CUV1 Fiber Optic Cuvette Holder for UV-VIS - NIR
The CUV1 is used for transmission, absorbance,fluorescence, and color measurements in liquids.
Includes 2 UV grade collimating lenses.
The CUV2 is the same as the CUV1 but we've added another collimating lens.
Typical applications include concentration measurements, color CIELAB measurements, kinetics studies, enzymatic reactions, spectral identification, and much more.
Recommended spectrometer for UV-Vis measurements are: EPP2000C concave grating spectrometer 190-850nm or UVN-SR composite grating spectrometer 200-1100nm. Also works with the SL5 Deuterium + Halogen light source.
StellarNet manufactures precision fiber optic spectrometers for portable and multi-channel industrial applications, which enable low cost spectroscopy solutions. Our expertise in electro-optics, software design, and applications development, provides unmatched price performance in the global instrumentation market.
Since 1991, StellarNet has been producing low cost miniature fiber optic spectrometers and accessories for industrial and academic applications worldwide. StellarNet is now one of the world's leading producers of ruggedized spectrometers for wavelength ranges of 190-2300nm and attributes its success to the eXtreme engineering of its internal optical benches, gratings, extruded electronics and detectors, and airflow optimized aluminum enclosures.
StellarNet spectrometers contain no moving parts, detector sockets, or screws, allowing for extended life and eXtreme durability.
StellarNet offers preconfigured Color measurement Systems, SpectroRadiometer and LED systems, Thin Film and Optical Measurement systems, SpectroChemistry Systems, Spectrofluorometers, PORTA-LIBS-2000 and Plasma Emission Monitors, and Raman systems.
BLUE-Wave, GREEN-Wave, RED-Wave, DWARF-Star and BLACK-Comet standard models 190-2300nm EPP2000-HR high resolution models 200-1100nm and LIBS high resolution models available
StellarNet offers a wide variety of light sources to suite your spectroscopic requirement including UV, VIS, NIR, LED, and calibration sources.
StellarNet designs and manufactures a variety of low cost integrating spheres and accessories for photometric and radiometric applications. Our spheres are available in a variety of sizes to offer customers the most flexibility when choosing a sphere for their application.
StellarNet offers various Fiber Optic Accessories, Chemistry Accessories, Light Source Accessories, and Radiometry Accessories to suite any application
SpectraWiz® Operating and Application Software that is truly the "Swiss Army Knife of Spectroscopy"
Hardware and customizable software solutions for OEM product integration. Spectrometer Drivers, demo source codes, and customizable programs in LabVIEW and Visual Basic for MS Excel are provided with each spectrometer.
StellarNet Integrating Spheres
StellarNet is now offering its own line of low cost integrating spheres from 2 to 12" in diameter. Larger spheres open for internal device mounting. Calibration lamp standards and accessories also available!
IS6 is a 6" integrating sphere with a 2.0" input port, 1 SMA fiber optic output, and internal white coating
FCI
The Flash Capture Interface is a perfect tool for assisting a StellarNet spectrometer in the measurement of flashtubes and pulsed sources where the output intensity is only for a short time duration.
Designed specifically for measurement with a pulsed solar simulator, the FCI instantaneously triggers a StellarNet spectrometer for full spectral acquisition.
You have successfully added from to your part list.
---