Custom Kitting Packaging
Product Announcement from Stephen Gould Corporation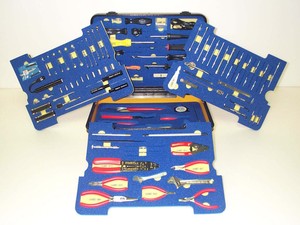 Stephen Gould Corporation is a global packaging source for creating innovative, cost-effective kitting solutions for the usage and storage of tools and all kinds of hardgoods and other materials.
Driven by our customers' exacting needs, we utilize state-of-the-art product design and engineering to produce highly customized tool kits and cribs, cabinets, and cases. Commonly used in the aerospace industry, this type of packaging has application in any manufacturing, maintenance, or repair environment as well as in the field where tools or other materials need to be easily identified and immediately ready for use.
Kits can be designed to exacting size, weight, and space specifications and are durable, water resistant, dustproof, and chemical resistant. Customers can order the exact presentation and contents they want with kits containing from a few to an unlimited number of items. Kits can also be standardized for use in multiple locations and customized to provide only what is needed to perform a specific task, or packaged in a particular sequence for ease of use.
Further, kitting customers benefit from our comprehensive tracking and fulfillment capabilities. Stephen Gould will identify every kit and each item in its contents with a laser-etched code and RFID tag that will provide information on its location and usage. This will enable a customer to limit access to certain users or even to a specific item. It will also facilitate immediately detecting and locating a missing item, often saving hours and dollars otherwise lost in a manual search.
For customers utilizing our fulfillment service, we will order and manage a kit's complete contents and deliver a fully assembled product, often in record time and in a single shipment. Due to our relationship with hundreds of manufacturers and suppliers, we can equip a kit with virtually any item a user requires.
Stephen Gould has been a packaging industry leader for more than seven decades. The company is a Registered Small Business -- GSA Schedule GS-06F-0047S -- with over 300,000 line offerings.
---