Experts In All Kinds of Industrial Packaging
Product Announcement from Stephen Gould Corporation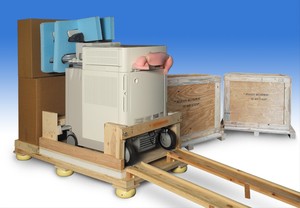 Stephen Gould's expertise in industrial packaging provides highly customized, efficient, solutions for your product's most exacting requirements. Utilizing materials like corrugated containers, wood and wood pallets, foam, and soft-side sewn cases, we ensure safe, protective packaging and transit for any kind of industrial product while minimizing material and assembly costs.
Stephen Gould Delivers Industrial Packaging Solutions
The safe and efficient transport of all types of products has been an integral part of Stephen Gould Corporation's core competency throughout its 70-year history. No matter what the requirement, the company will create the best solution of mediums to maximize product protection. Often, that solution is a one-of-a-kind package that is not available anywhere else.
Stephen Gould was recently challenged by a client who needed to ship a large, expensive, and delicate piece of equipment across the country to destinations that had no loading docks nor any means to move the product around. Rising to the challenge, the company's design and engineering team created an all-in-one, safe-to-ship crating system. This unique packaging incorporated a built-in ramp to utilize the wheels that were on the equipment so it could easily be taken off its protective crate and moved onto the site without the need for heavy apparatus. A combination of corrugated paperboard, various densities of cushioned foam, wood and other cushioning devices provided all the necessary protection.
Another unique package providing both protection and functionality was recently created for medical units used in the field by the military. The end-user needed to see through it as well as be able to access certain knobs and dials. Because of Stephen Gould's expertise in working with many kinds of materials, we were able to create a combination rigid and soft-cushion case.
Why choose Stephen Gould for industrial packaging?
• We have the capability to satisfy our clients most exacting requirements utilizing our extensive team of in-house and consulting designers and engineers.
• We have expertise working with all different kinds of materials.
• Our extensive warehousing capabilities allow us to hold large orders for later delivery
• We are knowledgeable about Air Transport Association and Hazmat safety standards and specifications.
• We are sensitive to clients' environmental needs and will go "green" whenever we can.
About Stephen Gould
A pioneering giant in retail and industrial packaging and printing for seven decades, Stephen Gould Corporation provides every service necessary to bring products to market quickly and efficiently-from creative, customized packaging design and production to fulfillment, warehousing and Just-In-Time delivery.
---