Product Announcement from Stilwell Baker, Inc.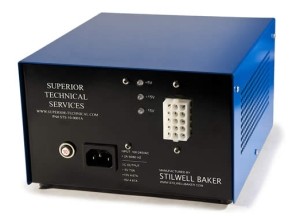 Superior Technical Services provides service and maintenance for third- and fourth-generation charged particle equipment, including scanning electron microscopes (SEMs). The original SEM design called for three discreet power supplies. Each of them had a high failure rate due to design problems. Replacement with new OEM versions was too expensive and repair was fraught with numerous logistical problems. To provide their customers a single upgraded replacement power supply, at the same cost as purchasing three discrete supplies from the OEM, Superior Technical Services contracted with Stilwell Baker.
Stilwell Baker engineers went on site to characterize the power supply requirements in the various models of SEMs supported by Superior Technical Services. The engineering team then wrote a detailed specification, designed, and built the new power supply. Superior Technical Services Founder, David Fisher, described the relationship between the two companies as "…a good partnership where we both use our core skills. My company identified the need and gave focused direction. Stilwell Baker used their experience in manufacturing and electrical engineering to make a product that is robust, cost effective, and well documented."
The new power supply design has significantly more capability: increased reliability to 500,000-hour MTBF, full output and input protections, voltage monitoring indicators on the outputs, and better line and load regulation. It extends the life of these legacy SEMs, keeping the older equipment running longer. Stilwell Baker President, Darrel Baker, described the result as, "a product that is highly reliable, natural convection-cooled, and functionally identical to the original at a lower cost to the end customer."
For more information, visit www.stilwellbaker.com , or call 503.210.2100.
You have successfully added from to your part list.
---