Miniature Synchronous Drive Systems at SDP/SI
Product Announcement from Stock Drive Products & Sterling Instrument - SDP/SI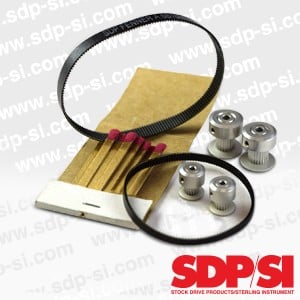 Hicksville, NY - In response to an increasing demand for smaller devices and instrumentation SDP/SI has introduced a precision miniature drive system. The Miniature Synchronous Drive System, available through Stock Drive Products / Sterling Instrument (ISO 9001 + AS9100 Registered), provides accurate positioning with high torque transmission capability and low backlash.

The Miniature Synchronous Drive System is designed to fit the market's growing need for smaller belt drives. The 1, 2 and 3 mm pitch timing belt pulleys, available in aluminum and plastic can be easily mounted to the shaft using the unique Shaftloc® fastener. The Shaftloc® fastener provides quick and easy assembly in small spaces and allows repositioning without damaging the shaft. The FHT® timing belts, reinforced with Kevlar or fiberglass cords provide years of precise positioning, with low vibration and quiet operation.

"OEM designers depend on Stock Drive Products / Sterling Instrument for reliable off-the-shelf components for motion control applications," said Cris Ioanitesu, Application Engineer. "The miniature drive system will deliver years of quiet, accurate, low maintenance operation for new and current designs."

SDP/SI supplies components to leading manufacturers of industrial, medical and security equipment. The timing belts and pulleys offered provide superior performance in products such as, 3D Printers, medical equipment and surveillance cameras. For more information on SDP/SI's Miniature Synchronous Drive System, please visit: http://www.sdp-si.com/products/miniature-products/miniature-belts-and-pulleys-inch.php.
---