Right Angle Drives with Sintered Bronze Bearings
Product Announcement from Stock Drive Products & Sterling Instrument - SDP/SI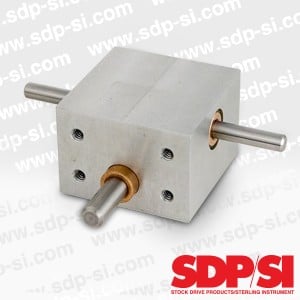 Hicksville, NY -- These right angle ratio drives manufactured by Stock Drive Products / Sterling Instrument feature non-corrosive all metal construction for use in a wide variety of instrumentation applications.

A total of 6 worm and bevel gear types are stocked. The 3 worm gear types are offered as standard with 5:1, 10:1 and 20:1 ratios. The worm gears are made of bronze and the worm is steel. The 3 brass bevel gear types are offered as standard with 1:1, 2:1 and 3:1 ratios. The housings are made of aluminum alloy with an iridite finish. All shafts are stainless steel.

These units, identified as the A 2Z4 series and S9914Y-G series, feature a breakaway torque of 10 oz. in. and an output torque of 200 oz. in. Their maximum backlash is 5 degrees and their maximum input speed is 2,000 rpm. Sintered bronze bearings are used in all units.

These small drives measure just 1-1/16" wide x 1-17/32" deep x 1½" high. All units feature one 3/4" long input shaft and two 3/4" long output shafts. Input shafts rotate in either direction. Requests for any special mounting requirements, ball bearings or different shaft diameters or other modifications are welcomed.
SDP/SI is a leading manufacturerof small mechanical components, servicing a wide variety of aerospace, medical and commercial industries for over 50 years.
SDP/SI - Stock Drive Products / Sterling Instrument offers both inch and metric small off-the-shelf mechanical components for the design engineer. Thousands of stock components, in a wide variety of sizes can easily be located and purchased in one convenient place. The engineer not only meets all his component requirements, but saves valuable time by not having to search other sources. SDP/SI is your one-stop source for small mechanical components. Stock Drive Products / Sterling Instrument consistently provides high quality precision gears and gear assemblies in quantities for prototype to OEM's. We make what others can't.
Quotes, online orders, and 3D CAD models are available on our updated estore at http://shop.sdp-si.com/catalog/.

SDP/SI is a brand of Designatronics Inc.,
Designatronics, Inc.
250 Duffy Avenue, Hicksville, NY 11801.
Phone: +1 516-328-3300
www.designatronics.com
---