Pin-Type Anti-backlash Gears from SDP/SI
Product Announcement from Stock Drive Products & Sterling Instrument - SDP/SI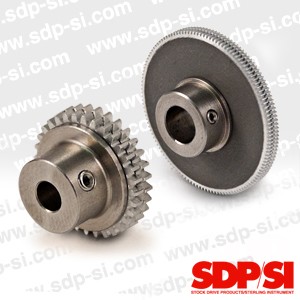 Hicksville, NY -- Anti-backlash gears manufactured by SDP/SI (AS9100C Registered) feature an effective way to eliminate backlash in gear trains that include small-diameter gears. Designated as pin-type mini-lash gears, each gear is composed of a set of two gear halves that give the appearance of a split gear. A built-in torsion spring, mounted around the hub, forces the two gear halves to turn in opposing directions relative to one another until the tooth space between the mini-lash gear and a mating gear is entirely filled.

This technique is applied to gears with outside diameters as small as .517 in. to eliminate all backlash, both fixed and variable, in gear trains. Furthermore, because the spring-loading continually adjusts the take up in tooth spacing, there is automatic compensation for wear and thermal dimensional changes during the life of the gear train.

The mini-lash gears are available in 303 stainless steel, and in 2024 aluminum, anodized before cutting. The torsion spring is of zinc-plated music wire. The hub, which is of stainless steel, can be mounted on a shaft by means of a pin or the supplied set screw.

Mini-Lash gears are interchangeable with conventional gears and are available in 64, 72, 80, 96 and 120 DP, all with .104 in. face widths. Bore diameters range from .1248 in. to .2498 in., number of teeth from 32 to 148 teeth, pitch diameters from .5000 in. to 1.2333 in. and outer diameters from .517 to 1.250 in., depending on the diametral pitch selected. The teeth have a 20 degree pressure angle, but 14-1/2 degree pressure angle and other tooth sizes, bore sizes and materials are available on request.
SDP/SI - Stock Drive Products / Sterling Instrument offers both inch and metric small off-the-shelf mechanical components for the design engineer. Thousands of stock components, in a wide variety of sizes can easily be located and purchased in one convenient place. The engineer not only meets all his component requirements, but saves valuable time by not having to search other sources. SDP/SI is your one-stop source for small mechanical components. Stock Drive Products / Sterling Instrument consistently provides high quality precision gears and gear assemblies in quantities for prototype to OEM's. We make what others can't.
Quotes, online orders, and 3D CAD models are available on our updated estore at http://shop.sdp-si.com/catalog/.

SDP/SI is a brand of Designatronics Inc.,
Designatronics, Inc.
250 Duffy Avenue, Hicksville, NY 11801.
Phone: +1 516-328-3300
www.designatronics.com
---