ABEC 3 Ball Bearings for Low Friction Applications
Product Announcement from Stock Drive Products & Sterling Instrument - SDP/SI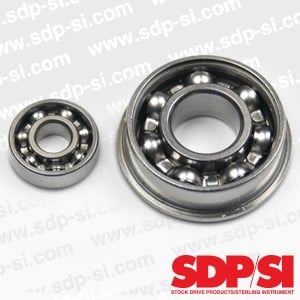 Hicksville, NY - Stock Drive Products / Sterling Instrument (ISO 9001 + AS9100 Registered) offers a wide selection of bearings in many different styles to fit your application. Of particular interest are the A 755Y... series of ABEC 3 ball bearings. These bearings are suitable for commercial applications that require low friction movement. They support both axial and radial loads with minimal play.

Both inch and metric size bearings are available. They come in plain and flanged styles and can be single or double shielded, if shielding is required. Standard options for lubrication include oil and both military and commercial grade grease, but other lubricants are available on special order to ensure your application needs are met. Static and dynamic load ratings go up to 1030 lbf and 1620 lbf, respectively.

SDP/SI is a leading manufacturer of small mechanical components, servicing a wide variety of aerospace, medical and commercial industries for over 50 years.
SDP/SI - Stock Drive Products / Sterling Instrument offers both inch and metric small off-the-shelf mechanical components for the design engineer. Thousands of stock components, in a wide variety of sizes can easily be located and purchased in one convenient place. The engineer not only meets all his component requirements, but saves valuable time by not having to search other sources. SDP/SI is your one-stop source for small mechanical components. Stock Drive Products / Sterling Instrument consistently provides high quality precision gears and gear assemblies in quantities for prototype to OEM's. We make what others can't.
Quotes, online orders, and 3D CAD models are available on our updated estore at http://shop.sdp-si.com/catalog/.

SDP/SI is a brand of Designatronics Inc.,
Designatronics, Inc.
250 Duffy Avenue, Hicksville, NY 11801.
Phone: +1 516-328-3300
www.designatronics.com
---