Wear-Resistant Polymer Spherical Bearings
Product Announcement from Stock Drive Products & Sterling Instrument - SDP/SI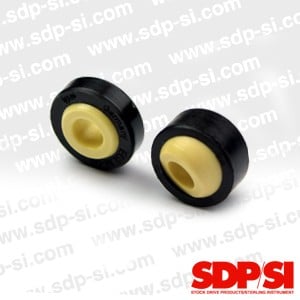 SDP/SI – Stock Drive Products/Sterling Instrument, a leader in providing mechanical based design, engineering and manufacturing services for critical motion control applications has expanded their product offering with the introduction of a new series of Plastic Spherical Bearings. "Many times plastic components are seen as inferior to metal," explained Application Engineer, Cris Ioanitescu, "but often they are the best and most economical option for an application, especially where lubricated metal bearings are not suitable."

Made of wear-resistant polymer and shock-resistant reinforced plastic, these bearings are lightweight, vibration dampening and provide excellent performance in moisture, chemicals and dusty environments. Strong and durable, they have a high strength-to-weight ratio and long service life. The Spherical Bearings, S99GSB-… and S99GSBM-... are offered for shaft sizes: 3/16" – 1/2" and 2 mm – 12 mm, are maintenance free, requiring no lubrication and cost effective. The two-part design allows the spherical ball to pivot within the housing, offering many design advantages.

SDP/SI, ISO 9001 + AS9100 certified, provide complete mechanical engineered solutions and services which include design, prototype, testing and manufacturing. Visit the newly redesigned website at http://www.sdp-si.com to learn more about SDP/SI, their full range of products and capabilities.

Stock Drive Products / Sterling Instrument (SDP/SI), 250 Duffy Avenue, Hicksville, NY 11801. Phone: 1-800-819-8900 | 516-328-3300 • Fax: 516-326-8827.
---