High-Quality Precision Gears and Assemblies
Product Announcement from Stock Drive Products & Sterling Instrument - SDP/SI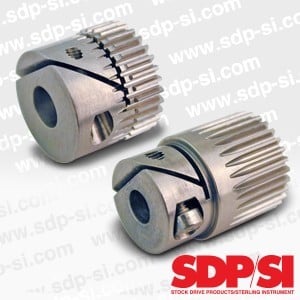 SDP/SI designs and manufactures a wide variety of components that feature the exclusive Fairloc® integral hub, including high-precision gears. High-quality Fairloc® Spur Gears, identified as S1VS24-(M)..., S1VC32-(M)..., and S1VS48-M)... inch and metric series, are manufactured in Stainless Steel and fit shafts ranging from 1/8" to 3/8" (4 mm to 10 mm) in diameter.
These spur gears are stocked in 48, 32 and 24 Diametral Pitch (0.5, 0.8, 1.0 Module) and range in face width from .197" to .313" (5 mm to 8 mm). Their sizes range from 14 to 120 teeth with O.D.'s ranging from .375" to 4.250" (9 mm to 102 mm). Modifications and custom design are available.

SDP/SI is a leading manufacturer of small mechanical components, precsion gears, and gear assemblies. Established in 1950 we provide motion control and small power transimission solutions for a wide variety of applications, including aerospace, medical, robotics, and more.
Let us quote your next project, speak to an engineer at (516) 328-3300.
Quotes, online orders, and 3D CAD models are available at our estore at http://shop.sdp-si.com/catalog/.
SDP/SI - Stock Drive Products/Sterling Instrument a Designatronics company
250 Duffy Avenue, Hicksville, NY 11801.
Phone: (516) 328-3300; (800) 819-8900
www.sdp-si.com
---