Precision Fairloc® Gear & Dial Hubs from SDP/SI
Product Announcement from Stock Drive Products & Sterling Instrument - SDP/SI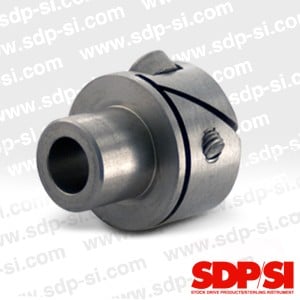 Hicksville, NY -- Precision gear & dial hubs from SDP/SI are designed to fit gears or dials and eliminate keys or splines. Identified as the S2F06Y-.... Series, these 303 stainless steel hubs feature our patented Fairloc® design. The compact self-contained design is perfect when hub O.D. is limited.
How the Fairloc® Works:
Fairloc® permits frequent phase adjustment, timing and position adjustment while adding positive metal-to-metal fastening strength along both hub sections. The Fairloc® integral hub fastener consists of two slots that are machined into the hub, one radially and the other angularly, to create a transverse wedge that remains attached to the hub. The resultant cantilevered clamping section has a tapped hole to accept a cap screw which passes through a clearance hole in the solid portion of the hub, and into a threaded hole in the transverse wedge section. As the screw is tightened, the cantilevered section clamps the shaft securely. The screw can be tightened and released repeatedly without marring the shaft or affecting its torque-transmitting abilities.
SDP/SI - Stock Drive Products / Sterling Instrument offers both inch and metric small off-the-shelf mechanical components for the design engineer. Thousands of stock components, in a wide variety of sizes can easily be located and purchased in one convenient place. The engineer not only meets all his component requirements, but saves valuable time by not having to search other sources. SDP/SI is your one-stop source for small mechanical components. Stock Drive Products / Sterling Instrument consistently provides high quality precision gears and gear assemblies in quantities for prototype to OEM's. We make what others can't.
Quotes, online orders, and 3D CAD models are available on our updated estore at http://shop.sdp-si.com/.

SDP/SI is a brand of Designatronics Inc.,
Designatronics, Inc.
250 Duffy Avenue, Hicksville, NY 11801.
Phone: +1 516-328-3300
www.designatronics.com
---