Product Announcement from Stock Drive Products/Sterling Instrument - SDP/SI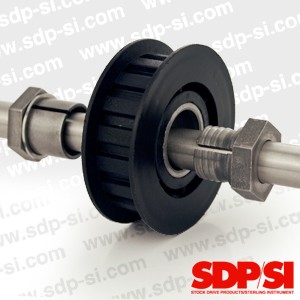 Shaftloc® Fastening Device is Simply Superior

Shaftloc® is a patented rotating component fastening device, produced by Stock Drive Products (An ISO 9001 Registered Manufacturer). A surprisingly simple design, it eliminates all the disadvantages of traditional methods for fastening components to shafts.

There are several different styles available for the Shaftloc® Fastener, but they all feature a simple two-piece construction with corresponding male and female threads. The sleeves slide over the shaft on either side of the component to be secured. The threads are assymetrical so that the two sleeves wedge together around the shaft, holding the part between them. Hex heads make it easy to tighten the Shaftloc® sufficiently, and to unscrew it to make adjustments as needed.

Because the design is so simple, it is very easy to install and low cost. Because there are no set screws, it can be reused and adjusted many times over without ever marring the shaft. The shallow angle of the thread produces large amplification of forces, resulting in substantial torque transmission capability between the component and the shaft.
SDP/SI boasts a highly trained engineering staff that is always ready to help you with any design or application questions you may have. For any questions about Shaftloc®, contact us at SDP-SIsupport@sdp-si.com
In addition to Shaftloc®, SDP/SI offers the shafts and rotating drive components that go with them, as well as a long list of other products in the following categories:
Don't forget that patents like Shaftloc® were developed by experienced engineers - if you can't find the part you need off the shelf, SDP/SI can help you design a custom part to your specifications, and produce it using a large manufacturing facility full of top notch equipment.
You have successfully added from to your part list.
---