SBS-2003 is lightweight & easy to use!
Product Announcement from Storage Battery Systems, LLC.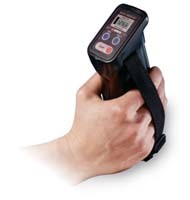 SBS-2003 Digital Battery Hydrometer / Density Meter
Digital Specific Gravity Tester for Lead-Acid Batteries
Battery testing has never been this easy. Simply insert the nozzle into the battery, depress the finger pump,and extract a few drops of sulfuric acid (H2S04) electrolyte. Touch one button and the processor does the rest. Within three seconds you have a temperature-compensated reading of specific gravity and temperature. Field studies show time savings of at least 5 times (500%) using the SBS-2003 Digital Hydrometer over a standard glass hydrometer and thermometer.

Lightweight and easy to use, its rugged and durable construction makes it suitable for use in all industrial environments from Data Centers to Utility Substations.
Features:
Time savings — 5 times faster than conventional methods
± 0.002 accuracy
Measures specific gravity and temperature
Automatically temperature compensated to 77º ?F (or 25º Con Celsius model)
Adjustable hand strap
Carrying case
9.5" suction tube (1/8" dia.)
Compact and only 8 oz.
LED display
For lead-acid batteries only
1-year warranty
Bluetooth data transfer to PC/Laptop
1000 reading memory Excel compatible data format for easy import into reports
Established in 1915, Storage Battery Systems LLC., has become renown for providing DC Power Solutions™ for stationary & motive power applications. From flooded battery cells, to sealed VRLA strings, from Ni-Cd jars to Lithium-ION rechargeable battery packs, SBS has developed a reputation for delivering superior performance & dedication to customer service.
At SBS, we offer a wide variety of DC products and services for stationary and motive power requirements that can enhance and maximize the performance you get from your application.
Motive Power
Fork lift truck batteries – we have been manufacturing and assembling them for nearly 90 years.
Industrial batteries (automotive, golf cart, scrubbers, generator starting batteries, etc.) – we have been the Midwest Master Distributor for Trojan Battery since 1979
We also have an office and warehouse in Chicago, Il and Green Bay, WI to provide sales and support for our Motive customers in the Midwest.
UPS Sales and Support
Sales: For nearly 25 years we have been authorized resellers of high end UPS systems manufactured by GE, Toshiba, Mitsubishi, etc.
Support: We have highly qualified in house technicians that travel across the country to perform general maintenance, repairs and new installations. We handle accounts like: Target, Kohl's, Hyatt, etc.
Specialty
We design and assemble in house custom battery packs for many applications. Examples: electric battery pack for Arien's electric riding lawn mowers and snow blowers, Hyatt key card door locks, we rebuild DC battery packs for laptops and portable electric tools.
Battery Test Equipment
For nearly 20 years SBS has been one of the major suppliers of battery test equipment. SBS stocks over 400 pieces of battery test equipment including: (3) types of digital hydrometers, internal resistance/voltage testers, load banks, hydrogen detectors and battery maintenance supplies.
We also fully service, repair and calibrate the equipment in house.
Stationary (95% Utility)
When we say '95% Utility' it is because the U.S. Utility market has been our focus for the last 15 years. When the Telecommunications industry was booming SBS did not follow every other battery supplier towards the 'quick money' and we have grown a large customer base because we stuck with the market we have always respected.
SBS supplies a full line of long-life low-maintenance flooded batteries (STT-series). We were the first company to actively market the lead-selenium/low-antimony batteries in the U.S. and we believe it is the best product available if manufactured correctly.
We took our knowledge of this product and designed a post seal we felt best complimented the tubular plate lead-selenium battery.
We also used our knowledge and experience to come up with a unique alloy that all of our manufacturers must use.
Combine that with intercell connectors and vent caps that we picked out and we are as close to a manufacturer as it gets without the disadvantages of a fixed factory location, fixed management and a slow response time.
If our primary manufacture has a long lead time, if the prices are high due to currency fluctuations or if there is a major quality problem at the factory we can move our orders to an alternate factory overnight without delay and with the same components and quality you can always count on with SBS.
We can also customize our batteries/accessories. For example Florida Power and Light preferred not to have the fully insulated connectors and wanted extended terminals. Within 8 weeks we customized our design and now stock product for them. A standard reseller and most manufacturers are not able or willing to provide this type of service.
We are the North American supplier for HBL ni-cad batteries. HBL is the 3rd largest ni-cad supplier in the world and their quality is great and the prices are even better.
We work with multiple VRLA battery manufacturers and we have many options available to us depending on the customer's requirements.
We also supplies battery chargers, standard and seismic battery racks, spill containment systems and custom enclosures.
SBS can also install our systems anywhere in the world with our own factory trained technicians.
SBS has been supplying quality products since 1915. We are ISO 9001 certified and we pride ourselves on customer service and quality.
Applications:
Services:
View our new SBS -Stationary 2013 Catalog
View our new SBS -Test Equipment 2013 Catalog
JOIN OUR Mailing LIst and Sign Up to Receive:Product Previews, Exclusive Savings, Whitepapers & More!
---