Fiberglass Electrical Substation Solutions
Product Announcement from Strongwell Corporation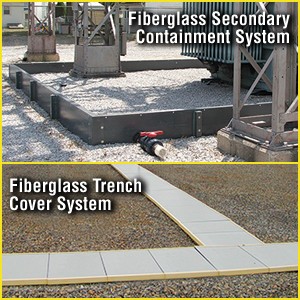 American Electric Power (AEP) and Strongwell have joined together to develop solutions to the problems associated with expensive and time consuming concrete installations, and Strongwell is offering these solutions to the electrical utility industry.
The low-cost, lightweight COMPOSOLITE® Fiberglass Secondary Containment System is now the choice over traditional concrete containment. The FRP system is light weight, easily and quickly installed, and less expensive than concrete containment systems. The system has had more than 500 separate installations for many different utility customers.
The new UTILICOVER™ is another cost-saving measure used by substations. Most electrical power companies currently use concrete utility trenches and concrete containment systems at electrical substations. Until recently, there were no cost effective alternatives. AEP collaborated with GEF Incorporated, a Strongwell fabricator, to replace concrete utility trench covers with an FRP cover created by using fiberglass products manufactured by Strongwell. The FRP cover system replaces the heavy, crack-prone concrete trench covers that are a constant problem for substations. Now trademarked UTILICOVER™, the benefits of this new trench cover system are:
· Light Weight - Less than one-half the weight of comparable concrete covers.
· Safety - Can be removed by one person without risk of back or hand injuries.
· Versatility - Can be easily adjusted to match various trench widths.
· Ease of Installation - Easily and quickly installed with no modifications to the concrete trench.
· Low Maintenance - More crack resistant than concrete.
· Cost - Very cost competitive with concrete covers.
Information on both the COMPOSOLITE® Containment System and the UTILICOVER™ Trench Cover can be found on Strongwell's website. Find out how our FRP products can reduce your costs, mitigate safety issues, and save you time in your electrical substations.
You have successfully added from to your part list.
---