Fiberglass Outlasts Steel Years After Installation
Product Announcement from Strongwell Corporation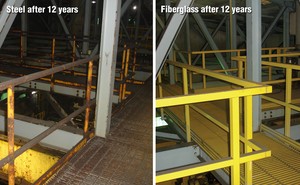 Strongwell's fiberglass solutions are in high demand for plants around the country because FRP (Fiber Reinforced Polymer) composite materials have proven to out-perform metal.
In one such instance, an American Coal plant in Galatia, Illinois reaped the benefits of using FRP for a major plant renovation. In 1996, the plant needed a solution to eliminate the deterioration of the steel grating and handrail located in the plant. The chemical combination of residual sulfur and chlorides in the processing water can result in a corrosive environment that can destroy carbon steel in less than four years and stainless steel within six to seven years, resulting in a true safety hazard. Fiberglass products were the answer.
Strongwell's DURADEK® pultruded grating and stair treads and SAFRAIL™ safety handrail systems are corrosion resistant and virtually maintenance free under the attack of these harsh chemicals. This led to the engineers at this processing plant choosing Strongwell's products to replace existing metal grating and handrail.
In addition to eliminating corrosion, the FRP materials eliminated continuous maintenance of the previously installed steel and provided a safer work environment. The safety yellow color of the handrails under the low-light conditions in the plant was an obvious benefit; and, since the yellow color is pultruded into the handrail, the need to repaint was eliminated, reducing worker injuries.
Now, after 12 years, Strongwell's handrail and pultruded grating are still in service at the Illinois plant, while the competing metal products in the plant are corroding rapidly. As a result of success stories like this, other coal preparation plants are increasing the use of fiberglass handrail and grating.
Other FRP products ideal for harsh environments are EXTREN® Structural Shapes, COMPOSOLITE® and DURASHIELD® Building Panels, SAFPLANK® and SAFPLATE®. For more information, please visit www.strongwell.com.
You have successfully added from to your part list.

Play Fiberglass Outlasts Steel Years After Installation Video
---