STRONGRAIL Fencing Outlasts Traditional Materials
Product Announcement from Strongwell Corporation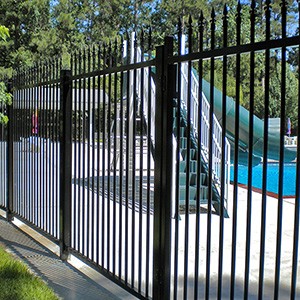 STRONGRAIL® architectural handrail and fencing systems are a strong, attractive and safe solution to your structural needs. The standard systems are fabricated from pultruded fiberglass components produced by Strongwell and molded thermoplastic connectors. The railing systems are particularly well-suited to corrosive environments like those found in commercial structures with urban and salt air corrosion. Systems can be made to meet ADA requirements, adding safety and beauty to your property.
STRONGRAIL® architectural fiberglass handrail and fencing systems are:
• Corrosion resistant
• Easy to field fabricate
• Structurally strong
• Low in thermal conductivity
• Impact resistant
• Low electrical conductivity
• Lightweight
STRONGRAIL® systems are the result of more than 40 years of experience in the manufacture, design and fabrication of fiberglass handrail and fence systems. The systems offer the following advantages:
• Ease of Assembly - STRONGRAIL® systems are produced in lightweight standard sections that include both post and rail. Systems can be prefabricated in large sections and shipped to the site or they can also be fabricated and installed on site with simple carpenter tools.
• Cost Effective - An easy-to-assemble design provides reduced labor and maintenance, resulting in long-term savings and elimination of the cost and inconvenience of "downtime for repairs."
• Internal Connection System - All connections fit flush, resulting in a pleasing, streamlined appearance. The internal connections allow the construction of continuous handrail systems.
• Safety Features - STRONGRAIL® systems feature low electrical conductivity and exhibit high strength. Systems meet IBC 2006 with a 2:1 factor of safety with a 4-foot (1200mm) maximum post spacing.
• Low Maintenance - Corrosion resistant fiberglass with molded-in color will outlast aluminum or steel systems with virtually no maintenance.
You have successfully added from to your part list.

Play STRONGRAIL Fencing Outlasts Traditional Materials Video
---