Air Classifiers - Overcome Screening Limitations
Product Announcement from Sturtevant Inc.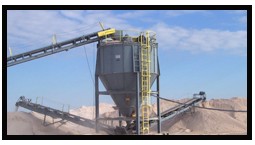 The Whirlwind Air Classifier is a compact machine that only requires simple support legs, feed and discharge conveyors. It does not require the settling ponds that accompany wet wash systems. It has less land requirement and no pond management issues. Capable of removing -200 mesh fines from crushed stone screenings, the Whirlwind offers an exceptional ability to achieve a wide range of separations allowing precise definitions of the desired size product.
The feed is conveyed into the air separator by gravity. The fines and coarse also exit the air classifier by gravity. Major changes in product fineness are achieved by changing the quantity of internal selector blades. Since the fines removed from the crushed stone are dry, they can also be sold for aglime or filler for various markets. The Whirlwind Air Classifier incorporates a speed self-contained fan and rejecter blade classification system. Its internal fan design uses low HP and does not require Cyclones, Airlocks or Baghouse to collect the fines. It is available in 14 sizes, ranging from a feed rate of 1 tph at 5 hp to 800 tph at 800 hp.
While all mechanical machines processing crushed stone will have wearing parts, Whirlwind Air Classifiers operate at very low speeds (130-300 RPM) for internal pneumatic conveying of the fines, so their maintenance is not as severe as high speed crushers or mills. Whirlwind Air Classifiers are manufactured with the most rugged design and the replaceable internal wear protection liners are selected according to the abrasiveness of the stone that will be processed.
Sturtevant Inc has been processing materials in crushing, grinding, blending and air classifying equipment since 1883. If you would like to receive assistance with your processing application, please click here.

Play Air Classifiers - Overcome Screening Limitations Video
---