Fine Milling of Nutraceutical Powders
Product Announcement from Sturtevant Inc.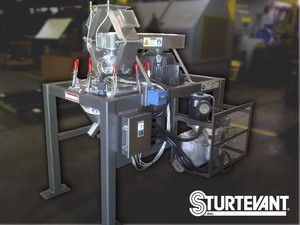 The Sturtevant Simpactor® Pin Mill is a centrifugal, pin-type impact mill, reducing low-to-medium-density materials to uniform fine particle size of 50-200 mesh. The mill uses centrifugal force to generate high-energy particle impact for size reduction, de-agglomeration, densification, and high-intensity mixing. Designed to use varying degrees of impact and agitation to process materials, Simpactors® are among the most versatile equipment available in the materials processing industry. From high-impact grinding at tip speeds of 45,000 feet per minute to controlled slower RPM mixing and blending, pin mills are easy to operate, highly reliable, safe and simple to adapt for applications.
These mills provide specific processing solutions for a wide range of needs including Preservatives, Flavor Enhancers, Fat Replacements, Nutrients, Emulsifiers, Stabilizers, Thickeners, Binders, Texturizers, Leavening Agents, Yeast Nutrients, Dough Strengtheners and Conditioners and Firming Agents.
How It Works: Materials are fed to the single-feed inlet which divides the stream to pass on either side of the external bearing column. These two streams drop onto the spinning rotor plate where centrifugal force drives it through a set of intermeshing pins and against a corrugated impact ring. This action reduces the size of friable particles via impact, or gently separates the material into fractional parts if used at low RPM.
Benefits:
· Polished stainless steel contact parts or optional 100% stainless steel mill.
· Economical: low energy consumption with high throughput.
· Efficient and effective: uniform, precise grind.
· Easy access for cleaning mill internals.
· Optional wash down design.
· Optional liner and pin materials available.
Size Range: 5-600 H.P.
Capacity Range: 50#/hr-150 TPH
Product Fineness: 50-200 mesh
Sturtevant Inc has been processing materials in crushing, grinding, blending and air classifying equipment since 1883. If you would like to receive assistance with your processing application, please click here.

Play Fine Milling of Nutraceutical Powders Video
---