Jaw Crusher - Ideal for Mineral Size Reduction
Product Announcement from Sturtevant Inc.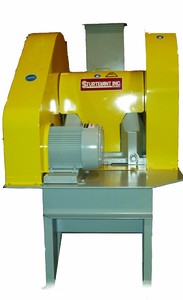 The Sturtevant Jaw Crusher reduces materials by compression and shear between jaw plates. Heavy duty cast iron construction; decades of dependable service. With easy access to wear areas for inspection and maintenance, the product size is adjustable during operation. Ideal for research and development.
Applications:
Aggregates
Ceramics
Minerals
Sintered metals
H. P.: 2-10
Feed Size: 2-8
Fineness: 1/8 inch - 2 ½ inch
Capacity Range: 800 lbs - 10 tons
Sturtevant Inc has been processing materials in crushing, grinding, blending and air classifying equipment since 1883. If you would like to receive assistance with your processing application, please click here.
---