Micronizer Jet Mill for the Cosmetic Industry
Product Announcement from Sturtevant Inc.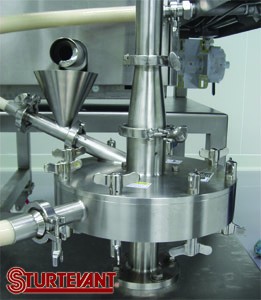 Sturtevant's "Open Manifold Design" Micronizer® Jet Mill pulverizes cosmetic powders, as well as chemicals, pharmaceuticals, pigments, ceramics, and minerals . The Micronizer® grinds and classifies powders to low and sub-micron particle sizes in a single operation using high pressure air, gas or steam to induce particle-on-particle impact reduction. The product size is controlled by the operating pressure, which affects the particle collision velocity and by the feed rate, which affects the powder's retention time in the grinding chamber. Particles are size classified by centrifugal force that holds larger particles in the grinding area and centripetal force that drags finer particles into the vortex for discharge. Micronizer® Jet Mills have successfully processed many pigments, minerals, metal oxides, ferrites, titanates, nitrides, silicates, carbonates, etc.
The Micronizer allows complete access to the internal material grinding chamber & compressed air chamber for easy cleaning & disassembles in minutes.
For processing cosmetic powders, product contact parts can be made from stainless steel, aluminum oxide as well as tungsten carbide. The variety of replaceable liners provides protection against wear and contamination. Laboratory, pilot plant and continuous production models are available.
---