Product Announcement from Sturtevant Inc.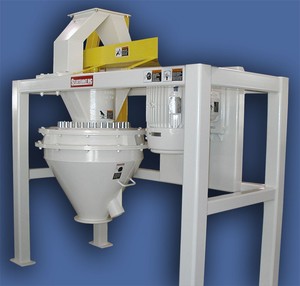 The Simpactors have a relatively low capitol cost, especially the simpler designs with a vertical shaft and a horizontal rotor that can be gravity fed or just blown straight through. The mill can easily be fitted with fully interchangeable and replaceable wear parts with surfaces hardened to 60 Rc or even 1/8" thick plates of Tungsten Carbide/Cobalt. The Simpactor also grinds very fast as a once-through operation and with capacities up to 50 tph with 250hp. The energy consumption is easily justified if milling a medium value mineral or material. In general, minerals with silica content for example, up to 5% to 8% or so make sense for a Simpactor Pin Mill with maximum wear protection installed.
How It Works: Materials are fed to the single-feed inlet which divides the stream to pass on either side of the external bearing column. These two streams drop onto the spinning rotor plate where centrifugal force drives it through a set of intermeshing pins and against a corrugated impact ring. This action reduces the size of friable particles via impact, or gently separates the material into fractional parts if used at low RPM.
Benefits:
· Economical: low energy consumption with high throughput.
· Efficient and effective: uniform, precise grind.
· Easy access for cleaning mill internals.
· Optional wash down design.
· Optional liner and pin materials available.
Sturtevant Inc has been processing materials in crushing, grinding, blending and air classifying equipment since 1883. If you would like to receive assistance with your processing application, please click here.
You have successfully added from to your part list.
---