Open Manifold Design Micronizer Jet Mill
Product Announcement from Sturtevant Inc.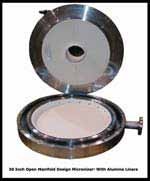 Sturtevant "Open Manifold Micronizer®" Pulverizes ceramic powders, as well as chemicals, pharmaceuticals, pigments, cosmetics, and minerals to narrow fine particle size distributions with no moving parts. The Micronizer® grinds and classifies powders to low and sub-micron particle sizes in a single operation using high pressure air, gas or steam to induce particle-on-particle impact reduction. The product size is controlled by the operating pressure, which affects the particle collision velocity and by the feed rate, which affects the powder's retention time in the grinding chamber. Particles are size classified by centrifugal force that holds larger particles in the grinding area and centripetal force that drags finer particles into the vortex for discharge. Micronizer® jet mills have successfully processed many ceramic powders, including Metal Oxides, Ferrites, Titanates, Nitrides, Silicates, Carbonates, etc.
The New Open Manifold Design allows complete access to the Internal Material Grinding Chamber & Compressed Air Chamber for Easy Cleaning & Disassembles in Minutes. There are No Closed Manifold and No Access Plugs to trap contaminants and Easy Jet Removal for quick clean up or inspection.
For processing ceramic powders, product contact parts can be made from Aluminum Oxide, Tungsten Carbide, Zirconium Oxide, Silicon Carbide, as well as many polymeric compounds. The variety of replaceable liners provides protection against wear and contamination. Laboratory, pilot plant and continuous production models are available.
Before purchasing a Micronizer®, customers are encouraged to send a representative sample of ceramic powder to the Sturtevant test lab. Here the sample is processed at several test conditions to determine the finest particle size that can be achieved and to develop a correlation between capacity and fineness. Product fineness is characterized using an air jet sieve and a laser particle size analyzer. We encourage witnessed trials so that you may learn more about the mill operation.
---