Rotary Fine Crusher with Automatic Sampler
Product Announcement from Sturtevant Inc.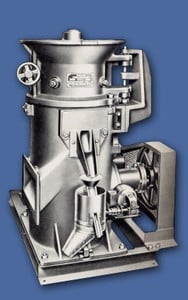 Sturtevant Rotary Fine Crushers are superior for reducing soft or moderately hard rock as they crush or granulate to even sizes without excessive dust. The gradual reduction and rotating crushing action assures a mixed, disintegrated, representative product.
These Crushers are operable through a bevel gear and pinion. Product size is adjusted with a handwheel, even while running.
The Rotary Fine Crusher with Automatic Sampler enables the operator to obtain a selective 5, 10 or 15% material sample. Product size ranges from 1/4" to 20 mesh. Sample is automatically taken after grinding.
---