Size Separation for Poultry Rendering
Product Announcement from Sturtevant Inc.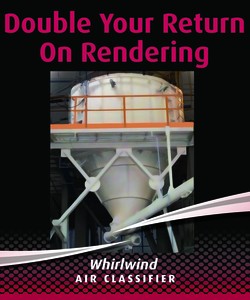 Whirlwind Air Classifiers:
The Sturtevant Whirlwind Air Classifier balance the physical principles of centrifugal force, drag force and gravity to generate a high-precision method of classifying particles according to size or density.
The heavy duty Whirlwind Air Classifier uses less horsepower than other styles of classifier and incorporates a self-contained fan and rejecter blade classification system. Its internal fan design does not require Cyclones, Airlocks or Baghouse to collect the fines. The feed is conveyed into the air separator by gravity. The fines and coarse also exit the air classifier by gravity. Major changes in product fineness are achieved by changing the quantity of internal selector blades. Minor changes are achieved by adjusting the position of external control valves.
Benefits
· Capability to process an extensive range of dry materials
· Higher capacity and finer separations than screeners
· Simple construction, low maintenance, easy-to-use controls
· Dial-in external fineness controls: no system shutdown to change products
· Maximized wear-resistance for abrasive materials in special applications
· Easily modified for air cooling or drying of product
· Safe classification for heat-sensitive materials
· No screens to wear, block, or tear
Sturtevant Inc has been processing materials in crushing, grinding, blending and air classifying equipment since 1883. If you would like to receive assistance with your processing application, please click here.

Play Size Separation for Poultry Rendering Video
---