Sturtevant Fly Ash Classifiers
Product Announcement from Sturtevant Inc.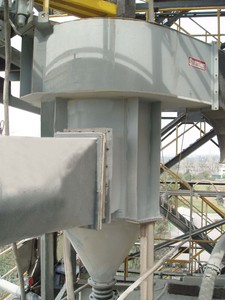 By air separating flyash at 325 mesh (45 microns), product quality can be consistently achieved by controlling the fineness and by reducing the LOI carbon content by 50% or more to a level that is tolerable for use in cement, as a filler for land reclamation, soil improvement, lightweight aggregates, and agricultural uses. For power plants where flyash output or desired flyash market specifications may vary, the Side Draft Air Classifier incorporates our state-of-the-art design and provides better efficiencies. By using an external fan to generate the system air flow, the speed of the independently driven rejector cage can be regulated according to various feed characteristics and thus, maintain dependable product fineness and quality. The feed is conveyed into the Air Classifier by gravity and the coarse exits form the bottom of the Classifier by gravity. The fines are pneumatically conveyed through the rejecter cage and collected in a product dust collector. The Side Draft Air Classifier also comes with alumina ceramic liners for maximum wear protection.
Benefits:
Fine particle size separation
Narrow particle size distribution
High removal efficiency
Variable speed for quick adjusting fineness control
Ceramic liner options for wear/contamination protection
Easy access for cleaning and low maintenance
Higher capacity and finer separations than screeners with no blinding
High-capacity models
Sturtevant Inc has been processing materials in crushing, grinding, blending and air classifying equipment since 1883. If you would like to receive assistance with your processing application, please click here.

Play Sturtevant Fly Ash Classifiers Video
---