Sturtevant Jet Mill for Titanium Dioxide
Product Announcement from Sturtevant Inc.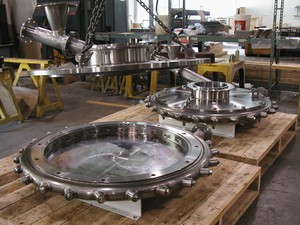 To use a Titanium Dioxide Micronizer®, superheated steam, at high temperature and at high pressure is applied to both the feed portion and grind portion of the machine. Steam energy applied to the grind portion produces a rapidly rotating vortex in the grinding chamber. Agglomerated titanium dioxide feed material is propelled into the grinding chamber, by the feed portion tangent to the rotating steam, where it becomes caught in the vortex and rotates with it. Particle-on-particle impact size reduces (breaks apart) the material. Centrifugal force keeps the larger particles rotating in the stream for further size reduction until their mass becomes small enough to move toward the center of the Micronizer® where they leave the Micronizer® with the exiting flow of steam. The particles may be collected as low micron & sub-micron finished product or passed on to the next stage in a manufacturing process.
Titanium Dioxide Micronizers require special features including:
· A pressure manifold constructed of stainless steel to prevent discoloration of the White Titanium Dioxide product due to rusting.
· Interior grinding chamber liners constructed from abrasion resistant steel to prevent contamination of the White Titanium Dioxide product due to wear product mixing with the process material.
· Special wear resistant, boron alloy weld overlay applied in front of each grind nozzle on the peripheral wall liner to extend the wear life.
· High temperature gasket material, compatible with high temperature superheated steam.
· Flanged connections at the inlet and outlet connections for use with high pressure superheated steam.
· Hardened steel feed and grind nozzles specially sized for superheated steam flow.
Sturtevant Inc has been processing materials in crushing, grinding, blending and air classifying equipment since 1883. If you would like to receive assistance with your processing application, please click here.

Play Sturtevant Jet Mill for Titanium Dioxide Video
---